Magento 2 Contact Form - Easy to Use
Create Magento 2 contact form in minutes without writing any code
Introduction
Blue Form Builder is a Magento 2 form builder extension developed by Magezon. One feature of this extension is that it allows you to create as many kinds of forms as you want. However, after doing research, we found out that the demands for Magento 2 forms mainly focus on contact forms. That's why we created a separate page on how the extension helps build this kind of form. Which features of Blue Form Builder support contact form building and how?
Overview
Create Magento 2 contact form easily in next to no time with Blue Form Builder extension:

Reviews
(21)
A flexible Magento Contact Form

I've been looking for such an extension for the last few months, and goodness it's finally here. It looks and functions as versatile as the WordPress plugin - Contact Form 7 - which I'm all too familiar for years. Technical support and responses from the developer has been awesome. Their answers and solutions are quick and precise. This is truly a "headache-saving" extension for anyone who's struggling with Magento's core but sluggish contact form.

p.s.: I'm using this extension with Magento CE 2.2.2

Works Well with Great Support from Developer

Easy to use, flexible and allows for a lot of customisation - includes functionality to add custom classes to form fields right out the box.

Plays well with the inbuilt Magento email delivery system.

There was a bug that affected the creation of new transactional emails but developer respond quickly with a simple solution adding it will be fixed permanently in future updates.

Amazing & Best Form Extension

Love this awesome extension!

1. Install is flawless. 2. All forms, whether simple or complex forms with conditional logic, are easy to make and gorgeous! 3. Incredible flexibility. 4. Very neat implementation options. 5. Documentation is outstanding. 6. Support is outstanding and fast - I emailed a question (which I should have found in the docs) and got a very kind, helpful reply in just a few minutes.

MUST HAVE!

Installed on CE 2.2.2
Top 3 Reasons to Choose Blue Form Builder for Magento 2 Contact Form
Let's explore the power of Blue Form Builder extension that helps you build Magento 2 contact form easily and fast. We are sure that it won't let you down!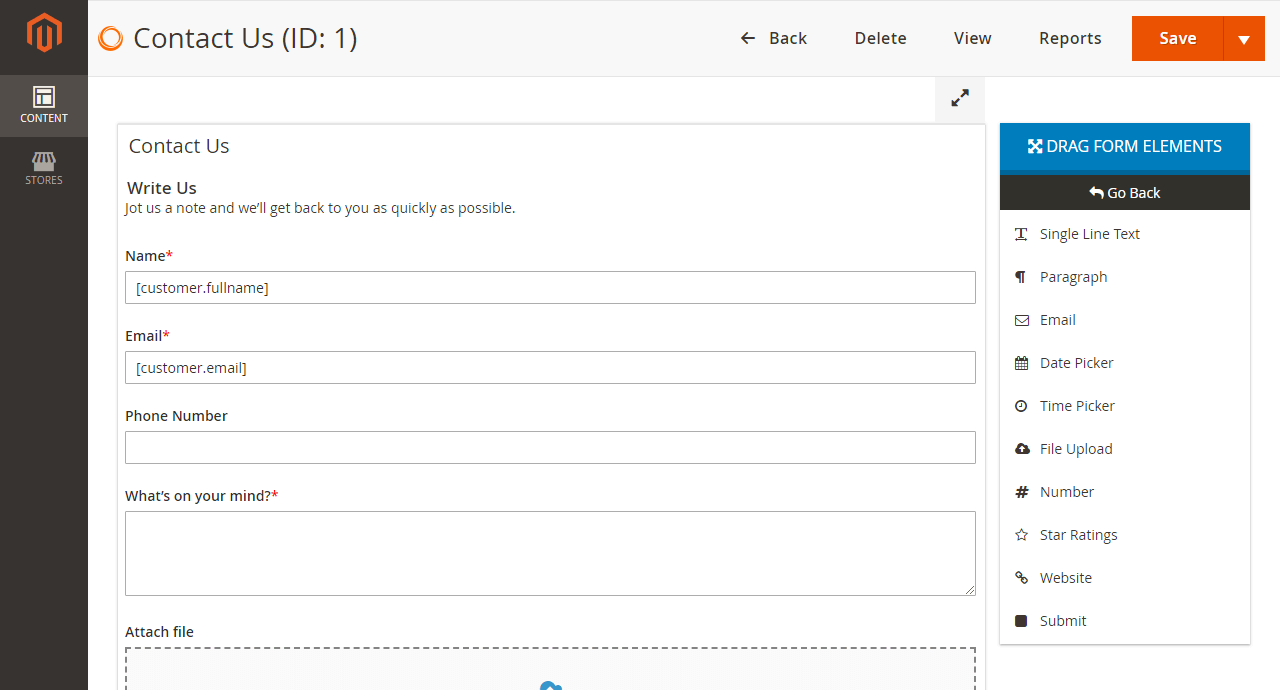 Create any Magento 2 contact form in minutes without writing any code
With simple and intuitive drag & drop builder, building contact forms has become much easier and faster. No coding knowledge is needed. In just a few minutes, you will have your desired Magento 2 contact form.
All elements & plugins you need to create any desired contact forms
From phone, email, radio list to file upload, Captcha and Google Maps. We have all elements you need to build basic contact forms.
With a wide range of plugins like Conditional Logic, MailChimp, PDF, etc., your contact forms will be more advanced.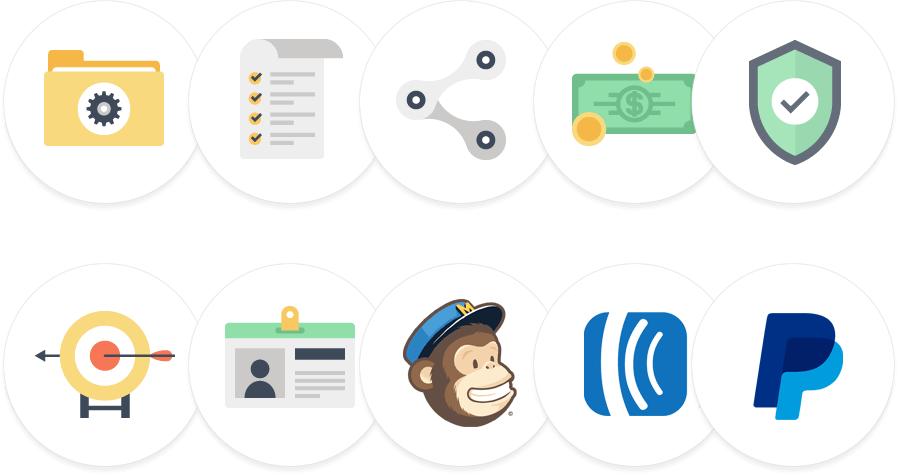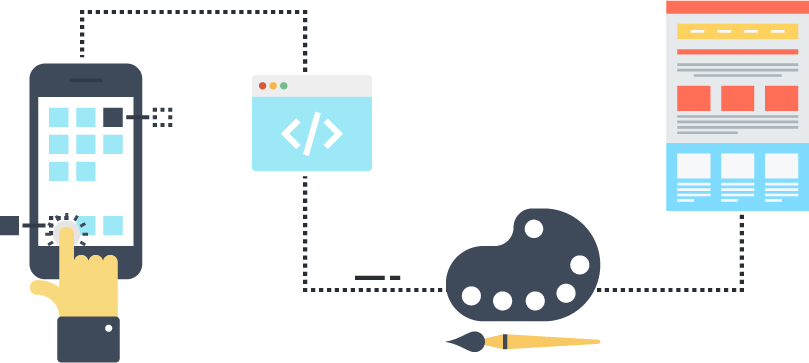 Start Building Smarter Magento 2 Forms
Create and Publish Forms in Minutes... What are you waiting for?
Frequently
Asked Questions
Do you have any questions about Blue Form Builder? See the list below for our most frequently asked questions. If your questions are not listed here, please contact us.
Feature FAQs
Anyone who wants to easily create Magento 2 contact form in particular and Magento 2 custom forms in general. Whether you are a website owner with little or no coding skills or a developer, Blue Form Builder is a perfect choice.
No coding skills are required. Just use our simple and intuitive drag & drop and you can create Magento 2 contact forms with ease.
Surely not. Our Blue Form Builder is carefully developed based on Magento 2 standards to ensure that your website still runs smooth and fast. Besides, Blue Form Builder was published on Magento Marketplace with quality thoroughly evaluated and verified.
Yes, our extension does support multiple storeviews. You can select any store to display or not display forms.
Yes, you can do this with the help of our Smart Conditional Logic plugin. Just buy and install this plugin that will be integrated with your existing Blue Form Builder.
Yes! For the admin, there will be a notification email about the form submission. For the customer, he/she will receive a success message right on the website and a notification email sent to their email address.
Support FAQs
Absolutely. Magezon offers lifetime free updates, 90-day free support and free installation support.
After 90 days, you need to pay an extra fee for our support. However, we believe that 90 days is enough for you to install, run and use our extension properly on your website.
If you have any questions or need any support, feel free to contact us through these ways below. We will get back to you within 24 hours since you submit your support request.
Payment FAQs
Currently, we only support product payment via Paypal. However, we will consider other payment methods and notify you of this.
If you are unsatisfied with our product, you can ask for a refund within 30 days since you purchase. Please send your refund request by filling out Contact Us, emailing us at [email protected], submitting a ticket, or contacting us via Skype or live chat.
Yes, you just need to pay one time to get our product without monthly service or update cost or something like that.
License FAQs
According to our license policy, you are allowed to use a single extension license on only one Magento installation.
If you want to use our extension on another Magento installation, you have to purchase another license for this installation.
If you're running multiple domains or websites under the same Magento installation, you just need to use one extension license.
Start Building Smarter Magento 2 Forms
Create and Publish Forms in Minutes... What are you waiting for?