Extension has been verified successfully by Magento Marketplace
Magezon guarantee all products have to meet the requirement of developing extensions according to Extension Quality Program on Magento Marketplace. The program is powered by Magento expertise, development guidelines, and verification tools.
Passing the verification confirms the best coding structure, performance, scalability, and compatibility with Magento 2 core of the extension.
The EQP program consists of 3 review processes including Business Review, Technical Review and Marketing Review. The Technical Review is the toughest one with careful checklist:
Check Code Quality/Syntax
Check for Viruses and Malware
Check for Plagiarism
Verify that Product Installs Correctly
Verify that Varnish Works Correctly
Quality Assurance: Pass Manual QA
EQP explanation can be found in this official blog post from Magento. View Tabs Pro on Magento Market Place
Tabs Pro is a perfect management of product listing and customizing. This extension will make your page more appealing and professional by displaying all products in the neatest way.
Create tab profiles depending on 9 conditions and different categories
Create the unlimited tab items
Easily customize the content of the tabs
Support Color Swatches

Support multiple product rows

Support multiple store views

Ajax loading helps save time

Fully responsive
Widget function helps add tabs to any place in the storefront
Community Edition: 2.0.x, 2.1.x, 2.x.2, 2.3.x
Enterprise Edition: 2.0.x, 2.1.x, 2.x.2, 2.3.x
Live Demo
30 days money back
FREE lifetime updates
90 days free support
Overview 
In fact, your home page always gets more views than any other page. Hence, the big problem is most of the online stores fail to direct the customers towards the right page. Then your sales cannot boost steadily. Deeply understanding this case, we guarantee our Magento 2 tabs pro will help you easily replace the default Magento tabs with more informative and helpful tabs. Furthermore, you can also add the unlimited number of dynamic tabs on each tab profiles. 
Having an online store with tons of products unarranged? Finding a tool to help you set up your store's products systematically? Wanna replace simply traditional Magento 2 tabs with more attractive one?
It's time to let our Magento 2 Tabs pro solve all the above problems for you. Just stay tuned and find out what's special in this extension.
Business values
Give your customers excellent browsing experiences
Now, your customers can proceed your store by any device conveniently thanks to 100% responsive interface. In addition, color swatches supported means they can see exactly how their products look right on the homepage. The customers no longer have to scroll down all the product page or search for specific content, they can conveniently view the part they are interested. Such a smooth and lovely experience! 
Easily customize tabs from the backend
No need to worry about being a web administrator, with the help of Magento 2 Tabs pro, you can make tabs yourself without touching any code. Thus, you can set your product filter by any condition and category you want or even combine them together. Just make the tabs your way to impress your visitors.
Save time and money
As you know, we provide this amazing item with NO FEE at all. Totally free! We guarantee it's helpful for you to keep your customers stay longer. In addition, Ajax loading can save time for your page. Hence, it will absolutely raise your rank in Google SERP.
Create tab profiles depending on 9 conditions and different categories
You now can create your tab profiles up to 9 product conditions:
Latest
New Arrival
Best Sellers
On Sale
Most Viewed
Wishlist Top
Top Rated
Featured
Free
Furthermore, you can also arrange the tabs to filter products by categories such as Women, Men, Top, Bottom… The more specific the tabs are, the more convenient finding products will be!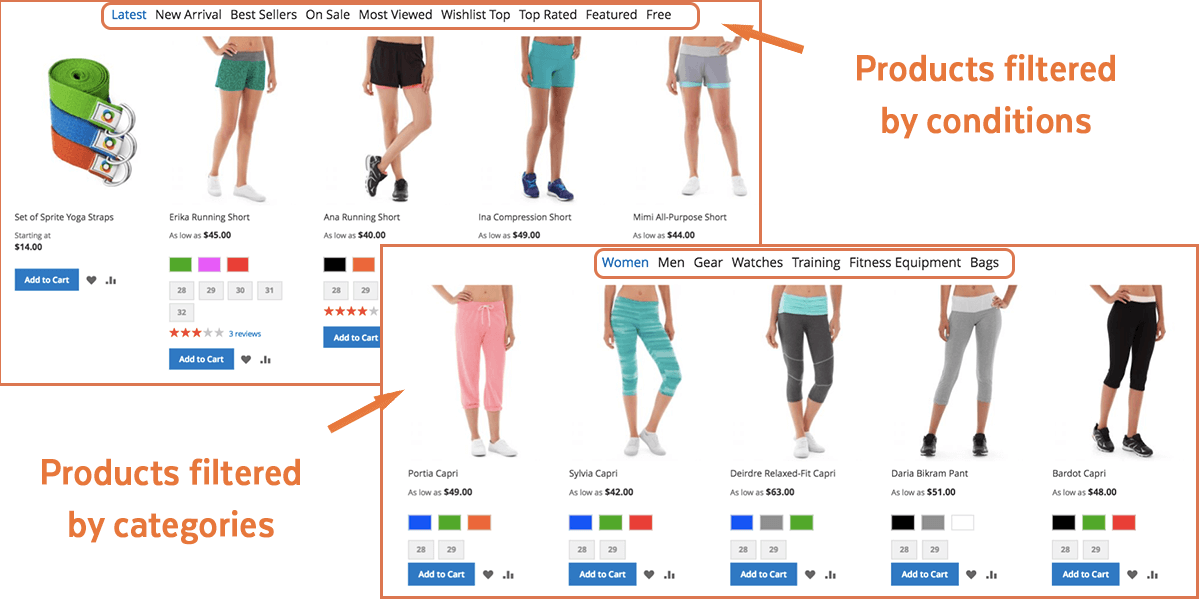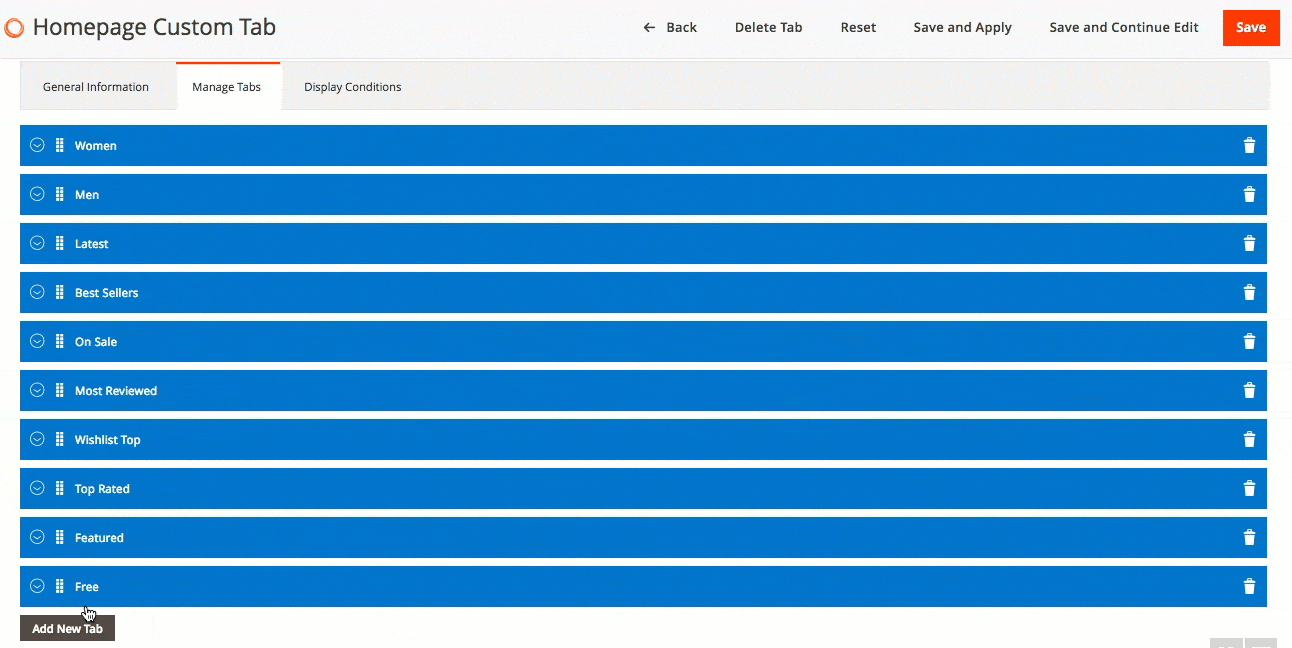 Create unlimited tab items
In each tab profiles, you can freely create the tabs. The number of the tabs depends on your decision. From the backend, you can drag and drop to change the position of each tab. Nothing is easier than that. Thus, create as many tab items as you want! Without any coding knowledge!
Easily customize the content of the tabs
Our Tabs comes with the dynamic and drag & drop interface like Ninja Menus, so you can get full control over all added product tabs. As a result, you could look through all created tabs, change their status or delete them. Using clear tab information fieldset you could choose up to 9 block types, change the sort order, assign to multiple store views, change the title, content inside easily.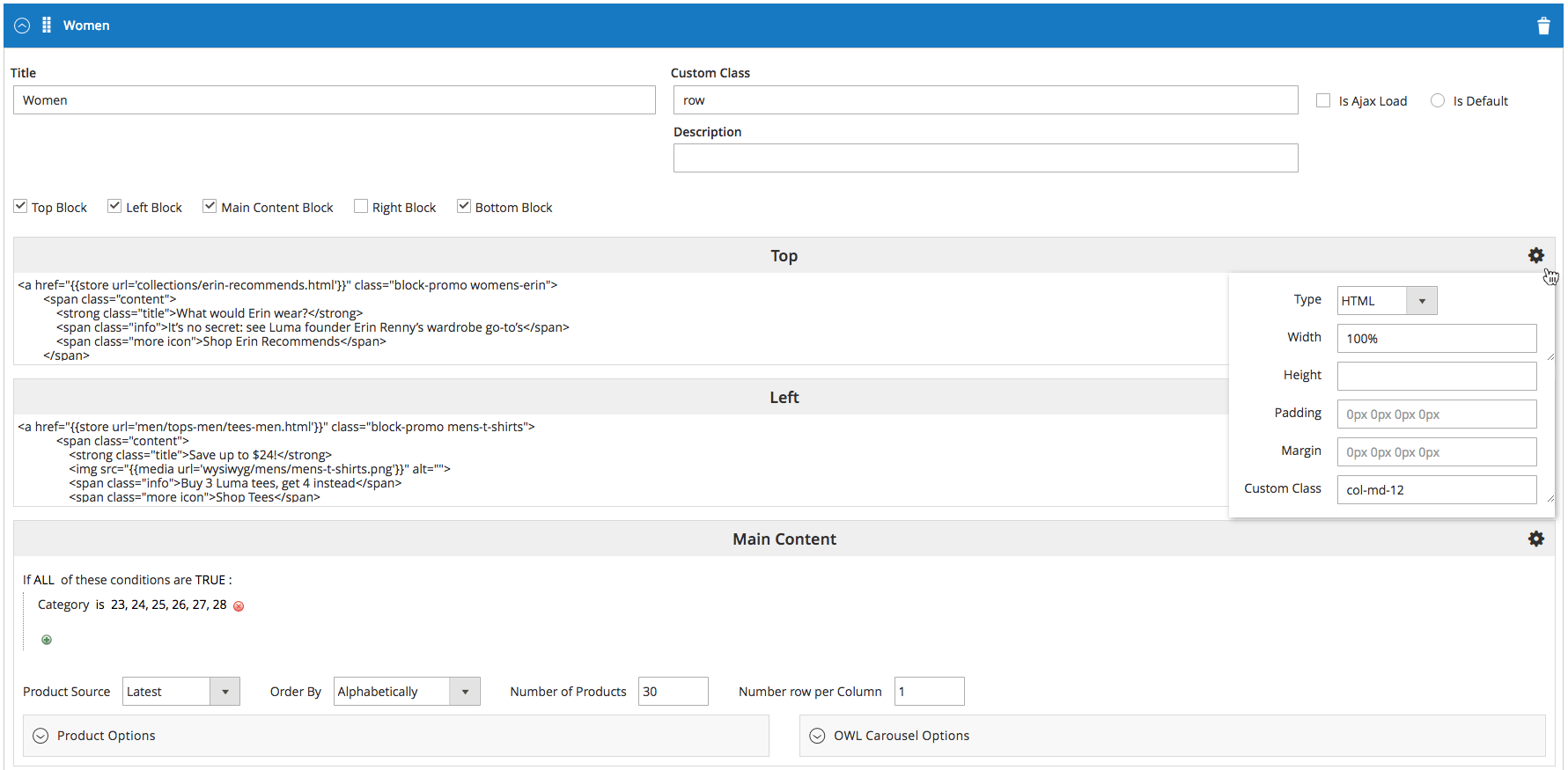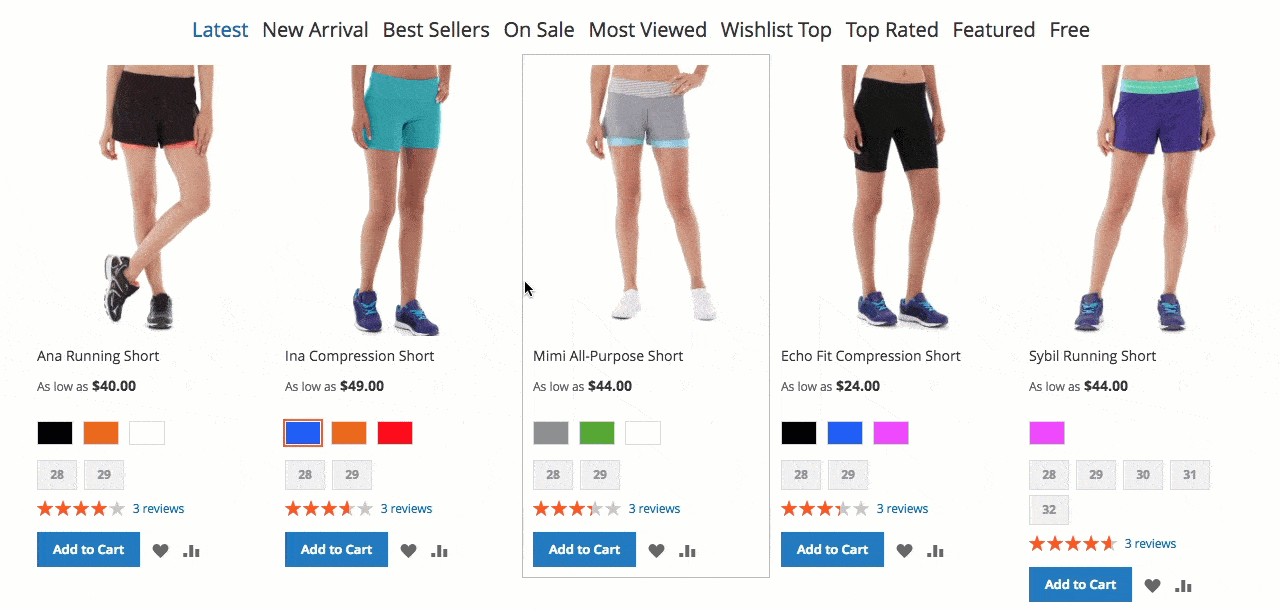 Support color swatch
When your customers wanna know how their shirt, tee or trousers look in the color chosen, they must go to the product page. Sometimes and somehow they will feel tired of waiting for it to load. Thus, the wish of buying these things will decrease. In order to avoid this inconvenience, we support color swatch inside this extension which helps show off the product's appearance immediately after choosing a color. Your customers will 100% satisfied with this experience cause it not only saves time a lot but it's professional as well. 
Support multiple product rows
Our tabs will not limit the display of products in the same range. Hence, you can create as many rows as possible. Accordingly, it's about time to think about the format of your pages and arrange the tabs your way.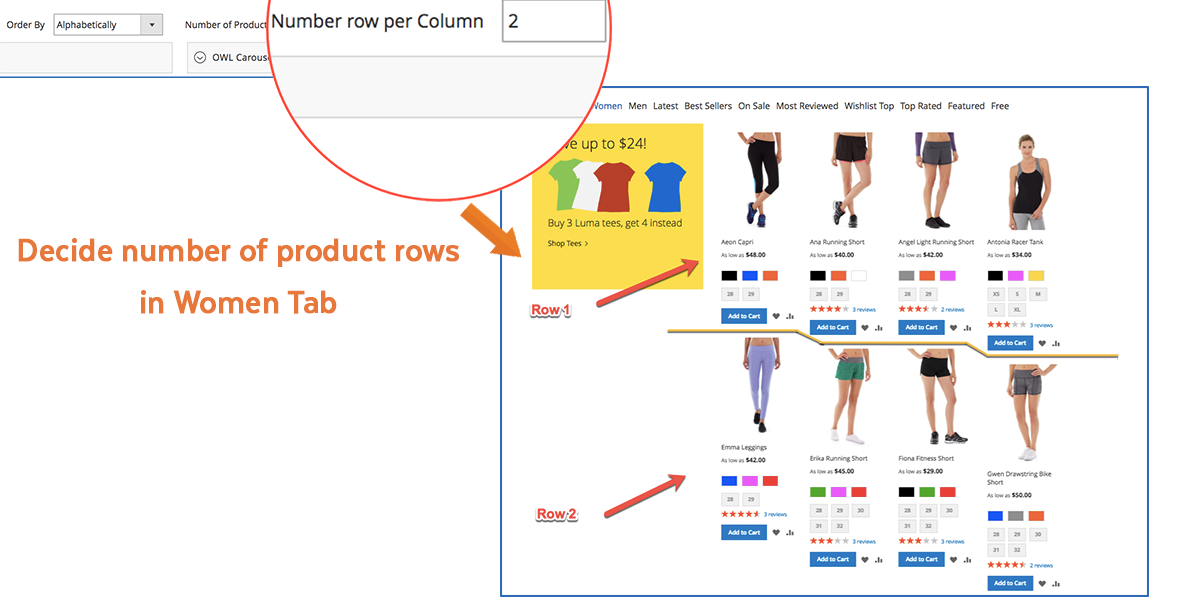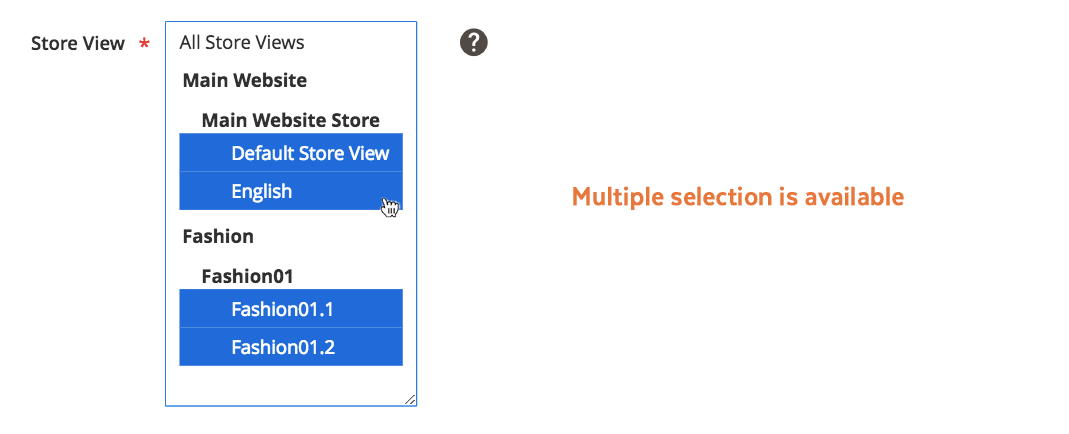 Support multiple store views
Now you get the ability to configure different tabs for store views. As a result, the product tabs translation now won't be challenging anymore! You are able to translate global tab profiles from the backend.
This Magento 2 Tabs Pro helps store owners provide the necessary content and a wide product range making the respective shopping experience easier.
Ajax loading helps save time
Only load visible content rather than all content on the page at once. Hence, it will absolutely improve performance, make the website much faster and more nimble. Furthermore, retrieving all tab products efficiently via AJAX helps avoid page reloading every time.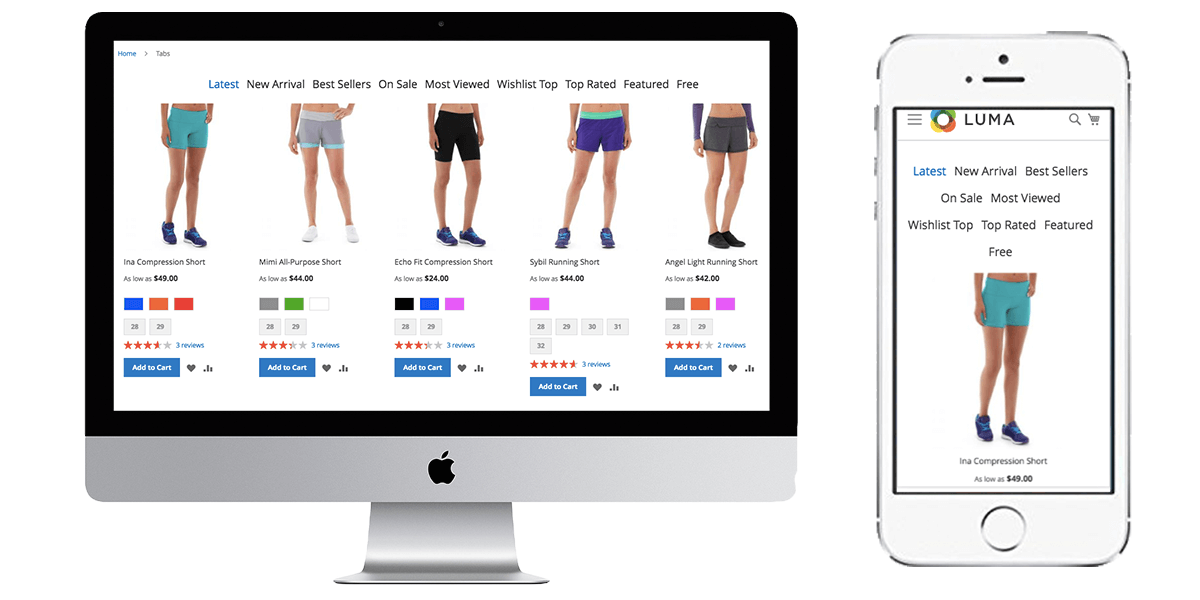 Fully responsive
Mobile is everywhere. Thus, offering your visitors responsive product tabs will encourage your mobile visitors to discover your exclusive products. In addition, your website will look great on all screen resolutions. Finally, mobile customer support will help you to increase overall sales.
Widget function helps add tabs to any place in the storefront
You can use Magento widgets in order to create new tabs using the existing product tabs. Accordingly, this widely customizable tool will help you to add the Tabs to wherever you want much faster.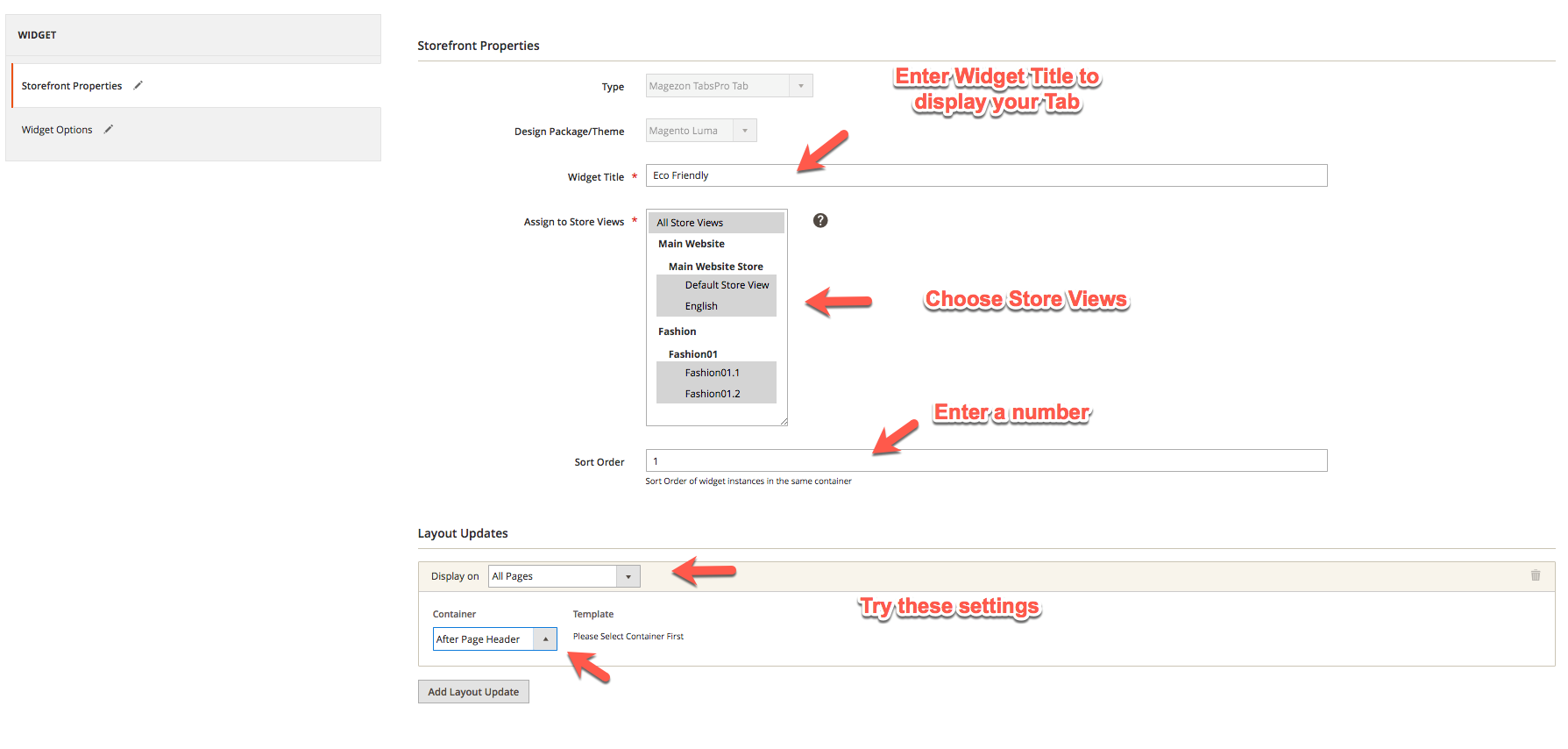 FEATURE FULL LIST
Fully Configurable
100% Open source
Easy to install and configure
Drag & Drop interface
User-friendly interface
Support multiple store vỉews

Free lifetime upgrades

Multi-Language supported

No core code changes

Support all pages
Responsive & Mobile
Responsive layout
Configurable Breakpoint
100% responsive
Easy to use
Easily edit tabs

Create an unlimited number of tabs in each profile

Customize tab content easily

Support widget to set the tabs position

Support multiple product rows
Boost sales
Show off product color by swatch

Reduce page loading time by Ajax

Support all page positions

Enhance customer shopping experience

Color swatches supported

OWL Carousel enhances customer's experience

Auto-related products

Bestseller products in the sidebar

Product list on the checkout page
Product filter
Filter by 9 product conditions:

- Latest

- New Arrival

- Best Sellers

- On Sale

- Most Viewed

- Wishlist Top

- Top Rated

- Featured

- Free

Filter by product categories
Frequently Asked Questions
Do you have any questions about Magento 2 Tabs Pro? See the list below for our most frequently asked questions. If your questions are not listed here, please contact us.
Feature FAQs
To install this extension, please refer to Magento 2 Tabs Pro Installation Guide for detailed instructions. It will take you just a few minutes to install our extension.
From the backend, access in the Manage Tab function. Then, you enter a new title of the tab into the field Title then click the Save button. If it doesn't work in the frontend, try refreshing your cache. Click here for more detail.
We do provide multiple store views to this extension. First, you should get your website content translated into different languages. Then, in the backend, edit the content in each store view by the target language. Take a look here for guidance.
Of course! Without any coding skill! Our drag & drop interface lets you customize your tab profiles your way. Smoothly and easily with the simplest backend ever!
Choosing the position from the backend. Click here for step-by-step guidance.
As you know, this extension can make your products arranged. It means your customers can navigate easily to find what they want among the tabs. In addition, it supports ajax loading technique that reduces time loading - your customers will like it. Last but not least, we also provide color swatches for configurable products that help show off the product's appearance immediately after choosing a color.
Absolutely not! We support you with Ajax loading of Magento. No more reloading for the whole page. Loading less means loading faster. This extension will help your store enhance performance dramatically.
 Being 100% responsive means you can run our extension on any device you have. Cell phones, tablets, personal computers, etc.
Support FAQs
When you are buying our product, you can see the information of it in Add to cart area. In the 'Additional 'Free Installation Support' before adding to cart. Just submit a ticket here and we're ready for help within 24 hours. This service is totally free, all the thing you have to do is providing us with those below information:
Order ID

SSH account & admin account
Absolutely. Magezon offers lifetime free updates, 90-day free support, and free installation support.
After 90 days, you need to pay an extra fee for our support. However, we believe that 90 days is enough for you to install, run and use our extension properly on your website.
If you have any questions or need any support, feel free to contact us through these ways below. We will get back to you within 24 hours since you submit your support request.
Payment FAQs
This product is TOTALLY FREE! No fee required. Just enjoy it and wait for a big change from your store.
(For our other products) If you are unsatisfied with our product, you can ask for a refund within 30 days since you purchase. Please send your refund request by filling out Contact Us, emailing us at [email protected], submitting a ticket, or contacting us via Skype or live chat.
(For our other products) Yes, you just need to pay one time to get our product without monthly service or update cost or something like that.
License FAQs
According to our license policy, you are allowed to use a single extension license on only one Magento installation.
If you want to use our extension on another Magento installation, you have to purchase another license for this installation.
If you're running multiple domains or websites under the same Magento installation, you just need to use one extension license.
Release Notes
New Update - released on Dec 13th, 2018
Compatible with Magento2.3
Version 1.0.0 - released on March 20th, 2018
Why Choose Magezon
®

2 Extensions ?

Come with a full service package, extensive documentation and excellent support.
30-Day Money Back
Contact us within 30 days and we'll give you a full refund.
Lifetime Free Updates
Instantly get notified by e-mail once a new version is released.
90-Day Free Support
90 days of troubleshooting support and bug fixes for free.
Free Installation Support
Helping you to use our extension is the fastest.
High Quality Code
All our extension are of top quality and come with well-commented code.
Extensive Documentation
All extensions come with a detailed PDF and online user manual.