Magento 2 Form - Google Maps Integration
By integrating Google Maps into a contact form to show your business' location, you can gain more trust from customers.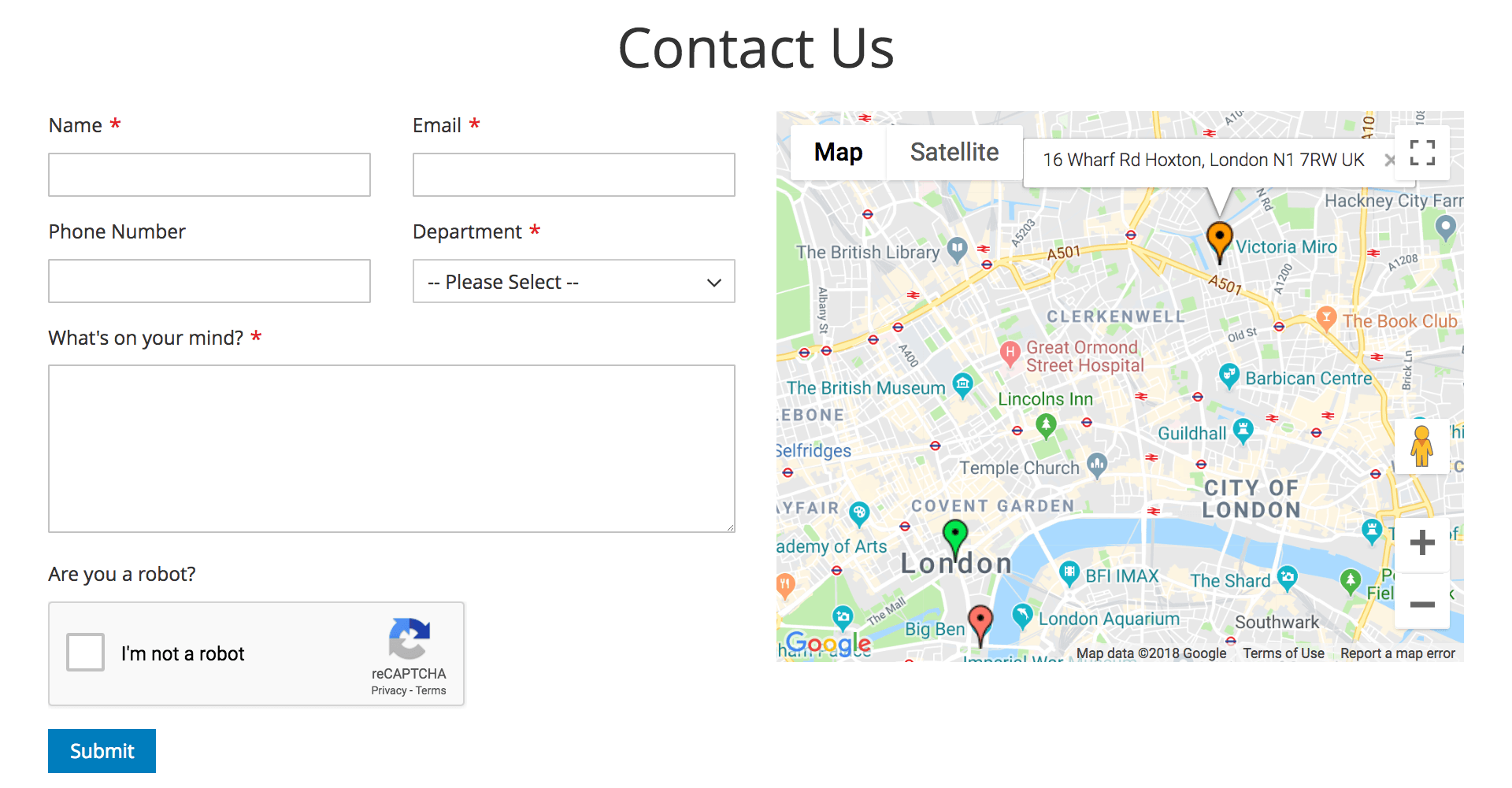 "Why should I add a map to the contact form?" This might be the question a lot of you are wondering. In fact, displaying a contact form with a map brings more benefits than you can think:
Provide your customers with details about your store's locations and addresses.
Gain more trust from customers.

Make your contact form more visually appealing, which can boost the form conversion rates.
With Blue Form Builder, you can integrate Google Maps into your contact form. No coding is required. Just drag & drop Google Maps element anywhere in the form.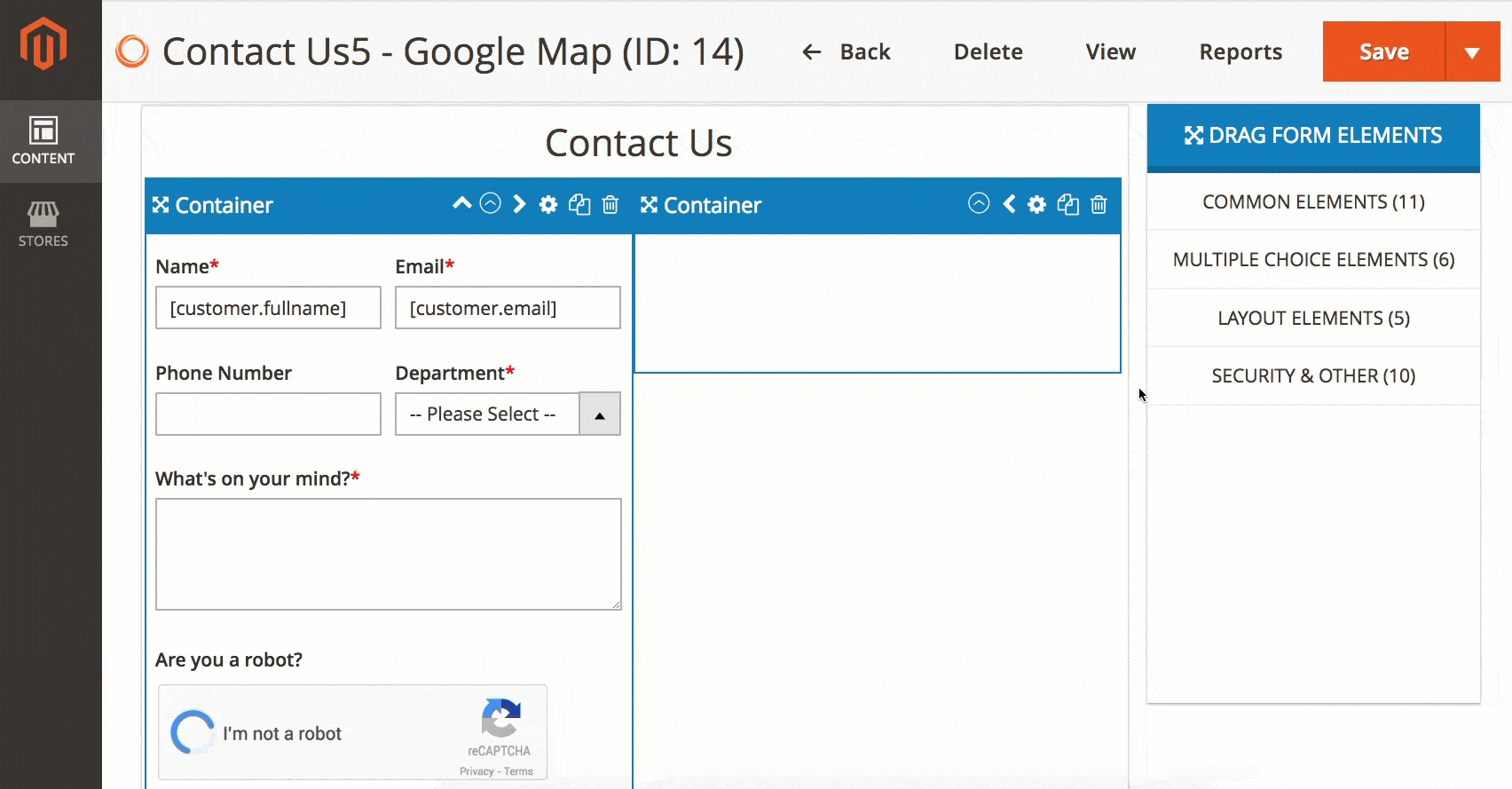 Make it easy for shoppers identify your location with a marker. You can:
Upload your desired custom image for the marker.
Display the marker with additional information such as address.
Add multiple markers in case your business has multiple locations.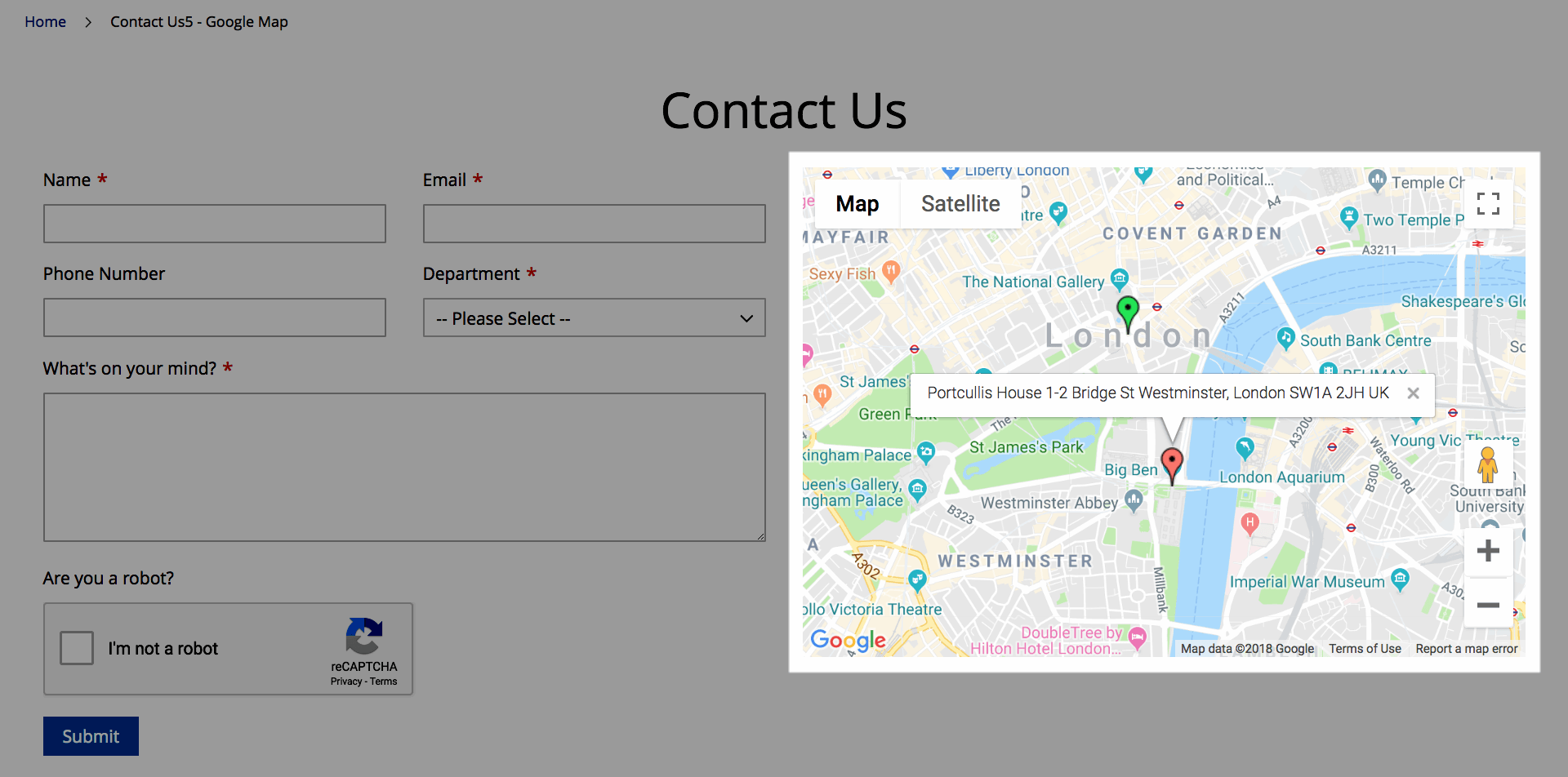 Display Google Maps with the type you want. You can choose among Roadmap, Satellite, Hybrid and Terrain.
Frequently Asked Questions
To add Google Maps to your contact forms, follow these steps:
- Step 1: Get a Google Maps API key.
- Step 2: Go Content > Blue Form Builder > Settings > General Settings, then enter your key into "Google Map API Key" field.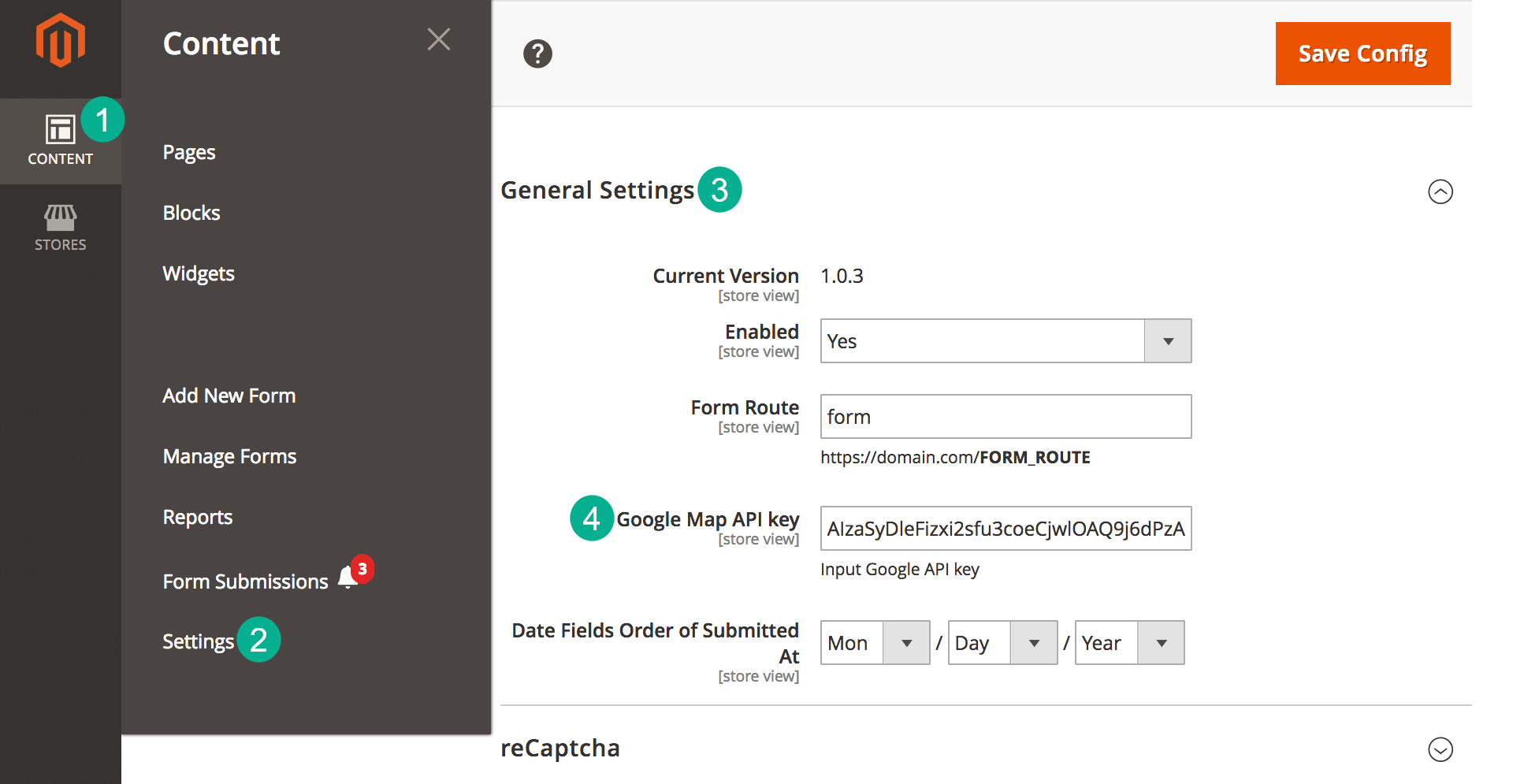 - Step 3: Drag and drop Google Maps element into your form.
Please note that if you do not enter the Google Maps API key, you can still see the Google Maps element and insert it into your forms. However, the Google Maps will not work on the frontend.
Yes, it is fully responsive. No matter which devices are used, your Google Maps-integrated contact form still looks great.
Yes, you can add as many locations as you want. Besides, you can identify each location with a marker.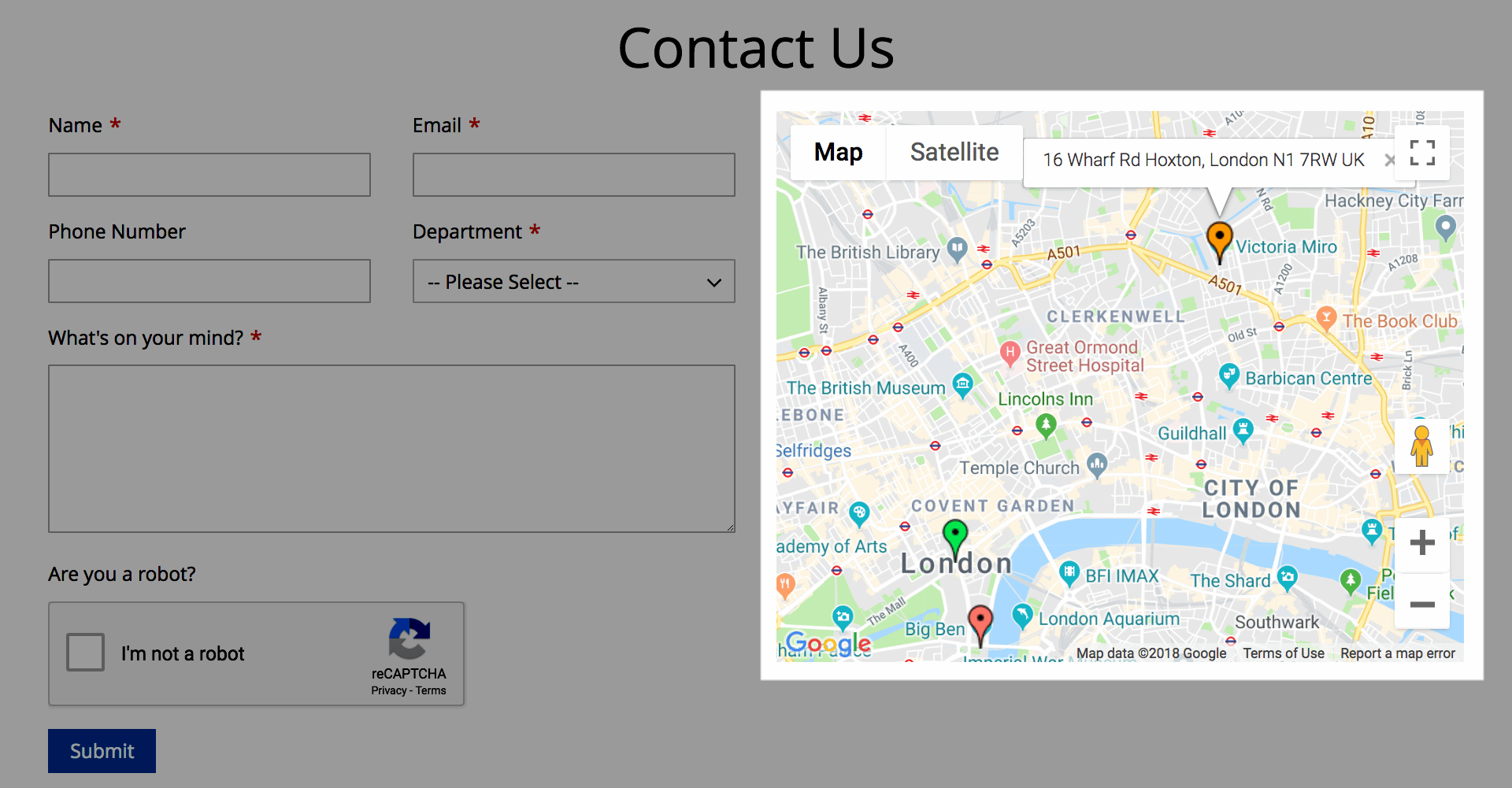 But don't just take our word. See what one customer says about Magento 2 Blue Form Builder Extension:
Amazing & Best Form Extension

Love this awesome extension !

1. Install is flawless.  2. All forms, whether simple or complex forms with conditional logic, are easy to make and gorgeous!  3. Incredible flexibility. 4. Very neat implementation options. 5. Documentation is outstanding. 6. Support is outstanding and fast - I emailed a question (which I should have found in the docs) and got a very kind, helpful reply in just a few minutes.

MUST HAVE!

Installed on CE 2.2.2

Reviewed by Shara on 6/4/18
Easy and Powerful Magento 2 Form Builder
Want to create various forms for your customers to fill out but have no coding skills? Decide to hire a programmer but feel tired of waiting 5-7 days to build a complete form? And on top of that, feel worried about paying as much as hundreds of dollars for the programmer? Then let Magento 2 Form Builder take the load off your mind.
Our extension comes with simple and intuitive drag & drop interface. As a result, you can easily create forms in minutes without writing any code. We also provide you with 30 drag & drop elements so that you can build any types of forms such as contact form, feedback form, survey form, etc. If you want to save more time, then choose among 10 pre-built templates and customize them based on your needs. Besides, with a user-friendly backend, building and managing forms have never been easier.
With Magento 2 Form Builder, your customers can upload unlimited files of any types along with their submissions. All the uploaded files are then managed in just one place in the backend. In addition, our extension lets you break long forms into multi-page forms for customers to easily fill out. Especially, you can create advanced forms with dozens of plugins such as Smart Conditional Logic, Report, MailChimp and so on.
Business Values
Save a lot of time and money. No need to hire a programmer and build forms from scratch. Instead, we provide you with 10 templates and 30 drag & drop elements.
Boost experience for admin. The admin can take full control of form building with easy-to-use backend.
Boost experience for customers. Our forms are 100% responsive, meaning that they look great on any kind of devices. Moreover, with AJAX-based frontend design, the whole page doesn't have to reload after a form submission.
Improve customer service. The extension allows you to create high performance and eye-catching Magento 2 custom forms. Certainly, this will attract customers to fill out the forms and build a close relationship with them.
Start Building Smarter Magento 2 Forms
Create and Publish Forms in Minutes... What are you waiting for?