Extension has been verified successfully by Magento Marketplace
Magezon guarantee all products have to meet the requirement of developing extensions according to Extension Quality Program on Magento Marketplace. The program is powered by Magento expertise, development guidelines, and verification tools.
Passing the verification confirms the best coding structure, performance, scalability, and compatibility with Magento 2 core of the extension.
The EQP program consists of 3 review processes including Business Review, Technical Review and Marketing Review. The Technical Review is the toughest one with careful checklist:
Check Code Quality/Syntax
Check for Viruses and Malware
Check for Plagiarism
Verify that Product Installs Correctly
Verify that Varnish Works Correctly
Quality Assurance: Pass Manual QA
EQP explanation can be found in this official blog post from Magento. View Ninja Menus on Magento Market Place
Ninja Menus is an EASY-TO-USE and extremely CREATIVE menu extension. No need to be professional in coding and technical skills, you can still make your own navigation menu just by using our simple and intuitive drag & drop interface.
Community Edition: 2.0.x, 2.1.x, 2.2.x, 2.3.x, 2.4.x
Enterprise Edition: 2.0.x, 2.1.x, 2.2.x, 2.3.x, 2.4.x
30 days money back
FREE lifetime updates
90 days free support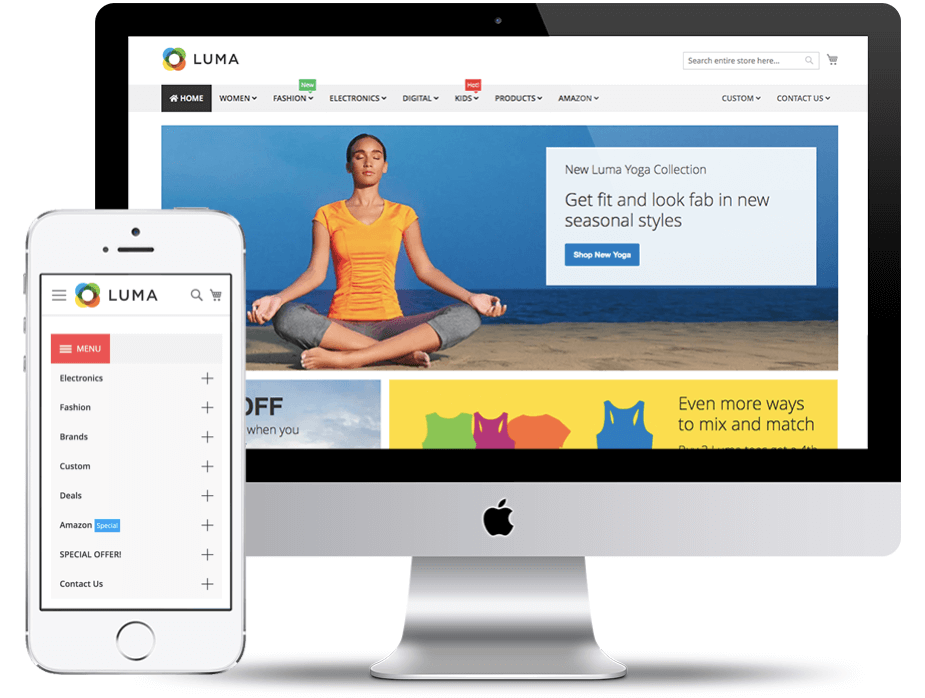 Responsive Magento 2 Mega Menu
Ninja Menus experienced a successful test in all modern mobiles and browsers. Such a huge convenience for customers shopping anywhere, with any device.
There are 2 types of menus to be displayed beautifully in mobile devices: Accordion and Drilldown. To save even more space in tiny screens, the hamburger menu is now applied and seems to be an excellent idea for any shop.
Choose your own breakpoint - control the limit at which the menu collapses from desktop to mobile mode.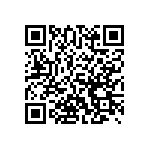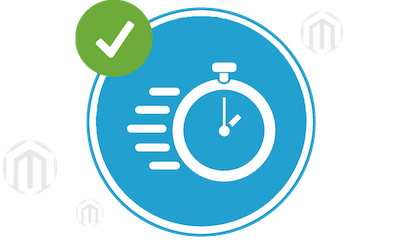 Manage your menu items instantly after adding them in the builder. Create your brilliant mega menu with our user-friendly interface.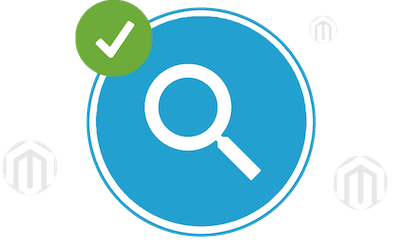 With this helpful feature, you can add items and see immediately how they look from the back end. No more waiting so see the differences.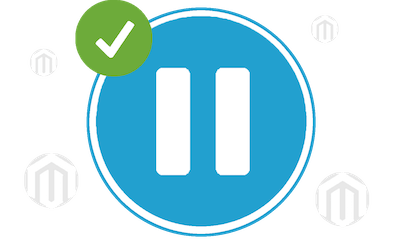 No need to use code to divide the menu into columns.  With rows and columns element, create multiple columns never been easier.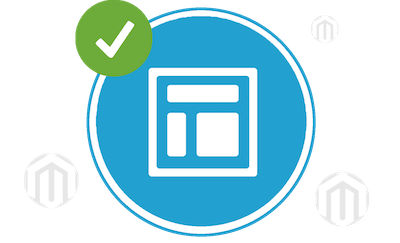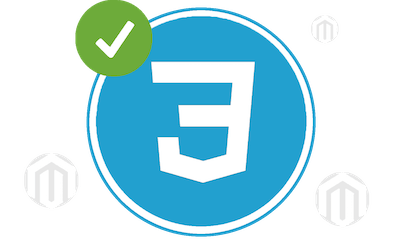 Want to add a bit of Custom CSS code for your mega menu? With Ninja Menus, you can do so directly from the builder. Just click the setting icon on the toolbar and add your own code.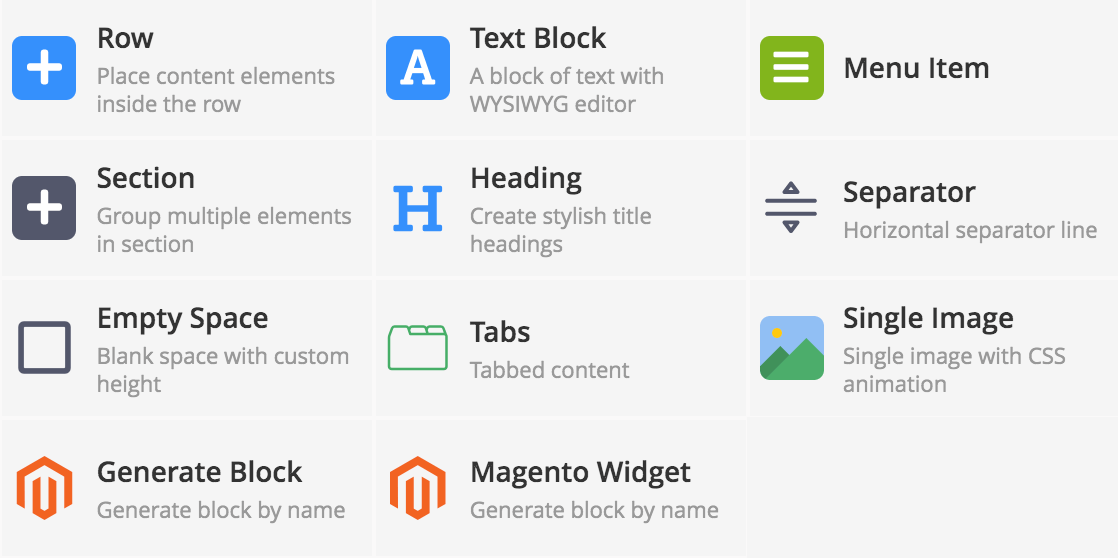 Use your imagination and creativity to make the menu engaging. With more than 11 elements supported, shape your own menu style easily. Why don't build your own rich content and professional menu by combining them together? Headings, separator or some vivid videos to grab more attention. Even Google Maps can be added to show off your place exactly.
Magento Widget is an element that helps with adding third-party elements to your menu from links, blocks, product list to other menus, at a glance.
A menu which is full of plain text can't be an attractive one. Decorating it with some vivid images is a great way to prevent your customers from getting bored.
Catch your customers' attention at first sight. Provide them visual references to quickly navigate through your page.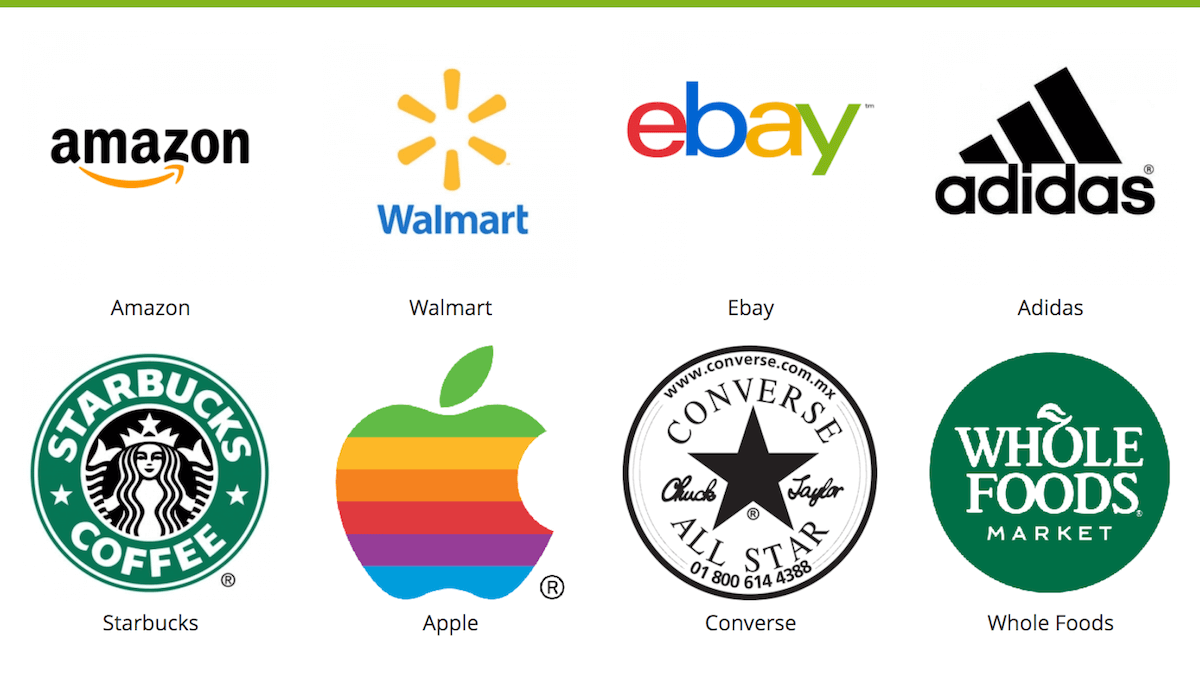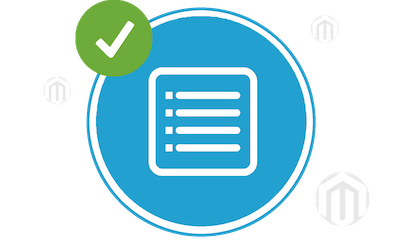 Will a complex menu with too many items slow down the site's speed? No. Our Ninja Menus lets create as many items as you want but doesn't affect the speed.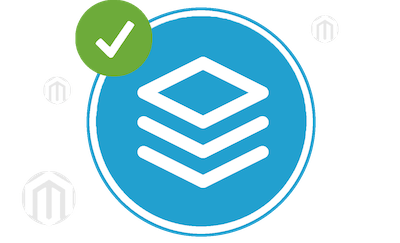 Ninja Menus comes with unlimited levels feature that helps show up all your items but still look tidy. Customize each level's size and color at ease.
Link to category or custom link
Add category link or custom link to your menu items with 1 click. Moreover, Ninja Menus also supports CMS page link and product link. Bring your customers to any desired page.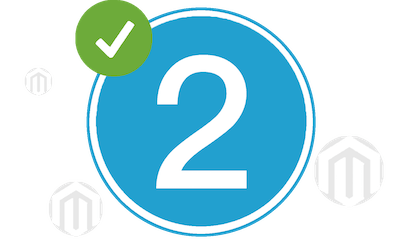 There are 2 submenu types: Mega and Stack submenu. Also you have 7 flexible positions to decide where to display the submenu in relation to its parent item or the menu bar.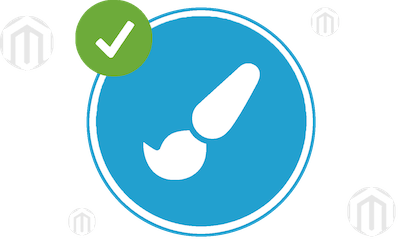 Design item with Style Tab
Customize the color and size of individual menu items with ease. Not all, design your submenu by adding a background, border, etc that fits your style.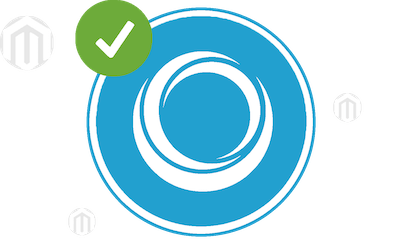 Make your menu more appealing with the help of 80+ animation effects. This way, your customers' experience can be enhanced dramatically.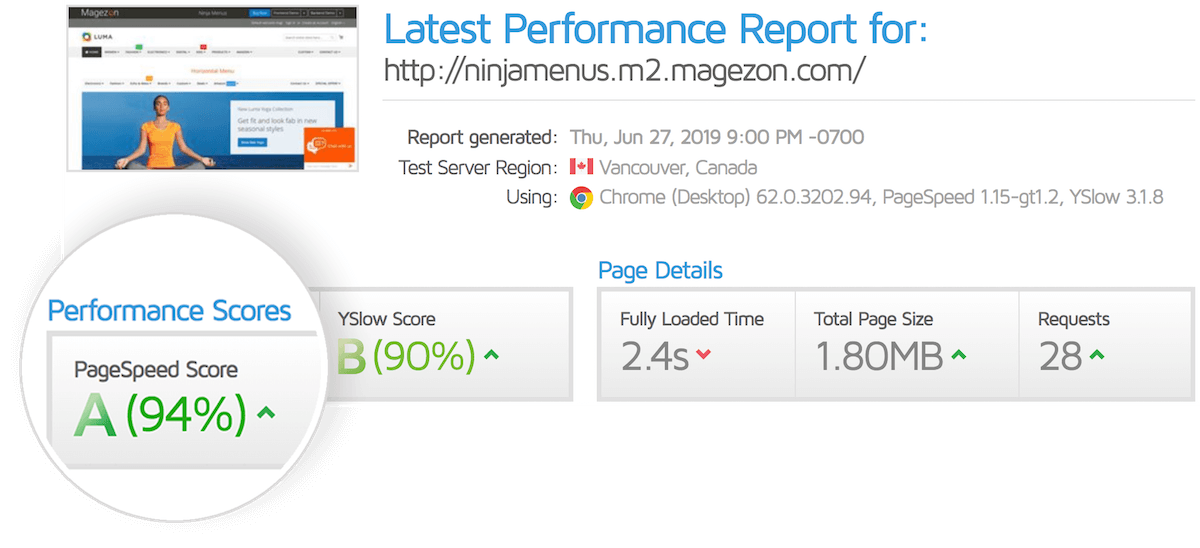 Fastest load time, Cache Supported
Undeniably, no one is patient enough to await slowly loading pages. To increase your sales, we accelerate the speed of your store by supporting a super cache feature. Following Magento 2 standards, it generates the static HTML menu code as well as bypassing the interaction with the database on each page load.
Ninja Menus supports Lazy Load technique that lets your site load on demand and hovering only. The heavy elements like Image, Video or Google Map will not be loaded until customers scroll down and hover on the menu items. This way, it helps save bandwidth but not affect the site speed.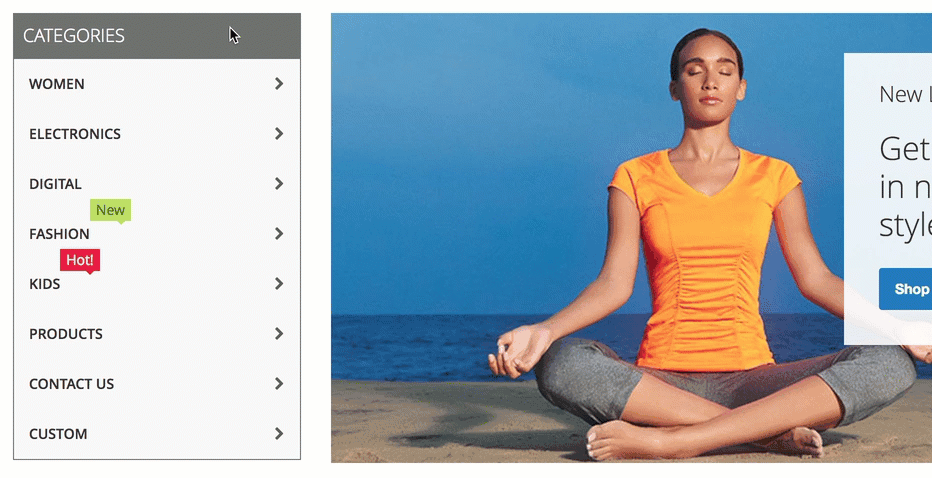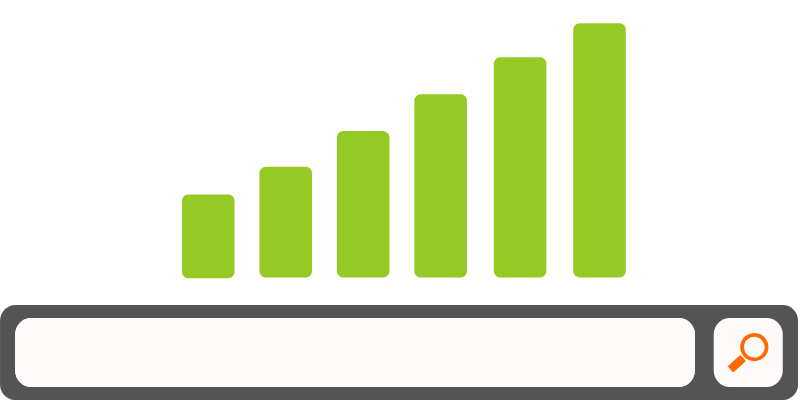 Ninja Menus gives your customers great navigation while shopping at your site. Hence, their experience will be boosted as it's easier to find what they want. As a result, the average time spent on your site and the traffic will be increased.
The simpler site structure tells search engine crawlers exactly where are your most important pages and give them faster ways to get to those ones.

Support Multiple Stores and Languages
The more language preferences your site gets, the more convincing it will be. Ninja Menus lets you create menu in different languages.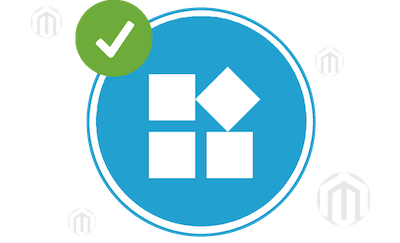 Ninja Menus support widget that helps display your menu in any position such as header, sidebar, footer, etc. No technical knowledge required.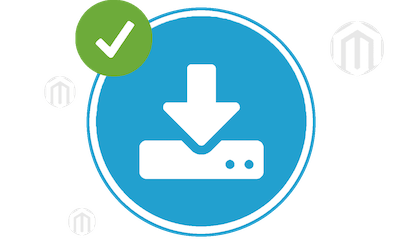 Our menu builder allows directly importing all store categories or one single category right from the start. This feature definitely saves you a lot of time configuring.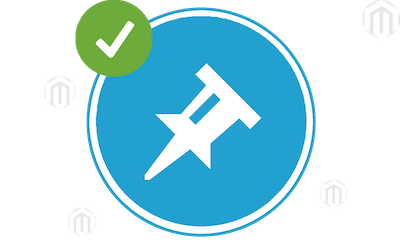 Improve your customers' experience by letting them access the navigation menu at any time without scrolling back to top.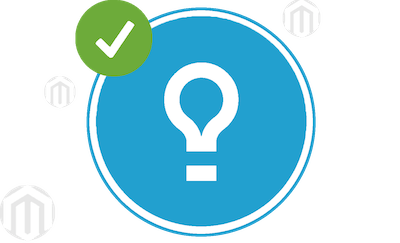 2 icon libraries give you more choices in the design progress. Select the icons that fit your style most from 990 icons in Awesome 5 library and over 150 in Open Iconic.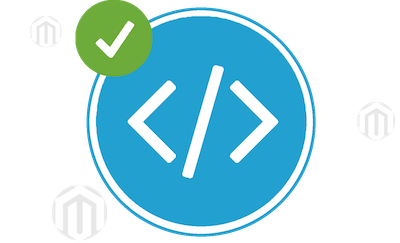 Wanna extend your menus? Our extension strictly follows Magento 2 standards that let every developer extends it at ease.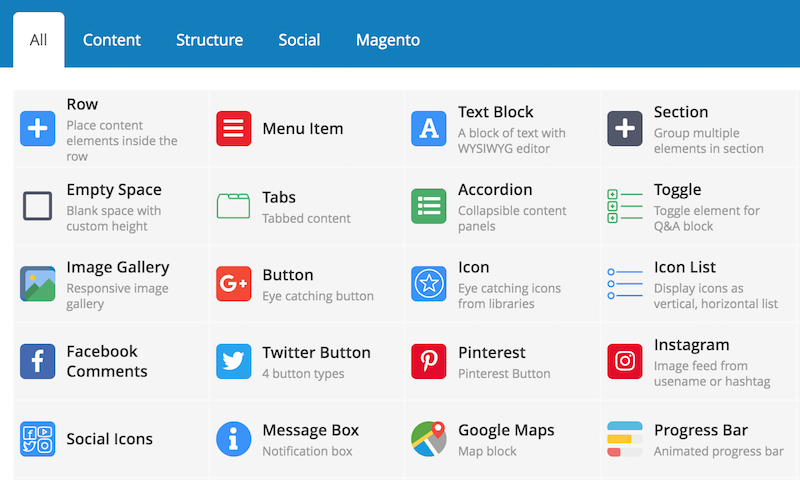 Ninja Menus is compatible with Magezon Page Builder. Installing both of them means you can use all the 50 elements inherited from our page builder. As they get the same core builder, no need to learn new tools, configure with the familiar builder, easily.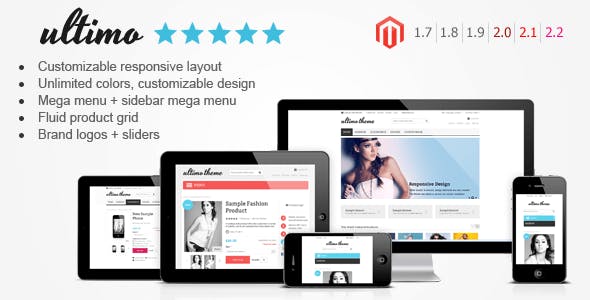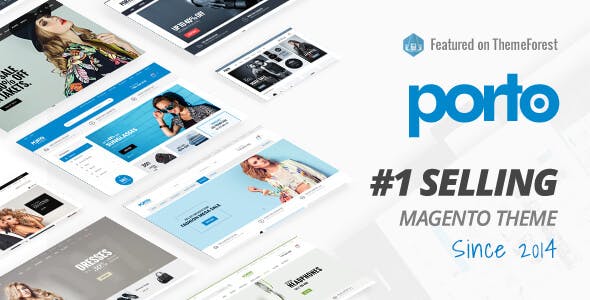 Amazing Aftersales Support and Tutorials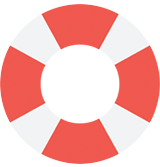 Ninja Menus is offering top class online support to handle all your requests. All your requets will be resolved within 24 hours.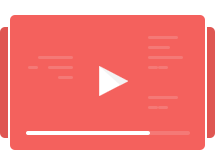 Knowledge Base and Video Tutorials
We provide Video Tutorials with visual guidance for using the extension. Besides, you can use User Guide for every tiny detail.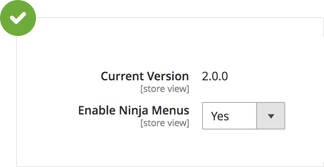 LifeTime Updates Free of Charge
We guarantee that you don't have to pay for Ninja Menus updates. With Ninja Menus purchase, you will receive lifetime access to our updates completely free of charge.
Success Stories Using Our Ninja Menus
Why Choose Magezon
®

2 Extensions ?

Come with a full service package, extensive documentation and excellent support.
30-Day Money Back
Contact us within 30 days and we'll give you a full refund. Checkout our refund policy here
Lifetime Free Updates
Instantly get notified by e-mail once a new version is released.
90-Day Free Support
90 days of troubleshooting support and bug fixes for free.
Helping you to use our extension is the fastest.
High Quality Code
All our extension are of top quality and come with well-commented code.
Extensive Documentation
All extensions come with a detailed PDF and online user manual.