Extension has been verified successfully by Magento Marketplace
Magezon guarantee all products have to meet the requirement of developing extensions according to Extension Quality Program on Magento Marketplace. The program is powered by Magento expertise, development guidelines, and verification tools.
Passing the verification confirms the best coding structure, performance, scalability, and compatibility with Magento 2 core of the extension.
The EQP program consists of 3 review processes including Business Review, Technical Review and Marketing Review. The Technical Review is the toughest one with careful checklist:
Check Code Quality/Syntax
Check for Viruses and Malware
Check for Plagiarism
Verify that Product Installs Correctly
Verify that Varnish Works Correctly
Quality Assurance: Pass Manual QA
EQP explanation can be found in this official blog post from Magento. View Ninja Menus on Magento Market Place
Magento 2 Mega Menu is an EASY-TO-USE and extremely CREATIVE extension. No need to be professional in coding and technical skills, you can still make your own navigation menu just by using our simple and intuitive drag & drop interface.
Community Edition: 2.1.x, 2.2.x, 2.3.x
Enterprise Edition: 2.1.x, 2.2.x, 2.3.x
Live Demo
30 days money back
FREE lifetime updates
90 days free support
Feature Highlights
Our Magento 2 Ninja Menus Extension allows you to generate an unlimited multi-level navigation menu. One category can be dragged above, below or inside another category. You can create all the levels at the same time. Also, you can control their positions in the real menu on the storefront.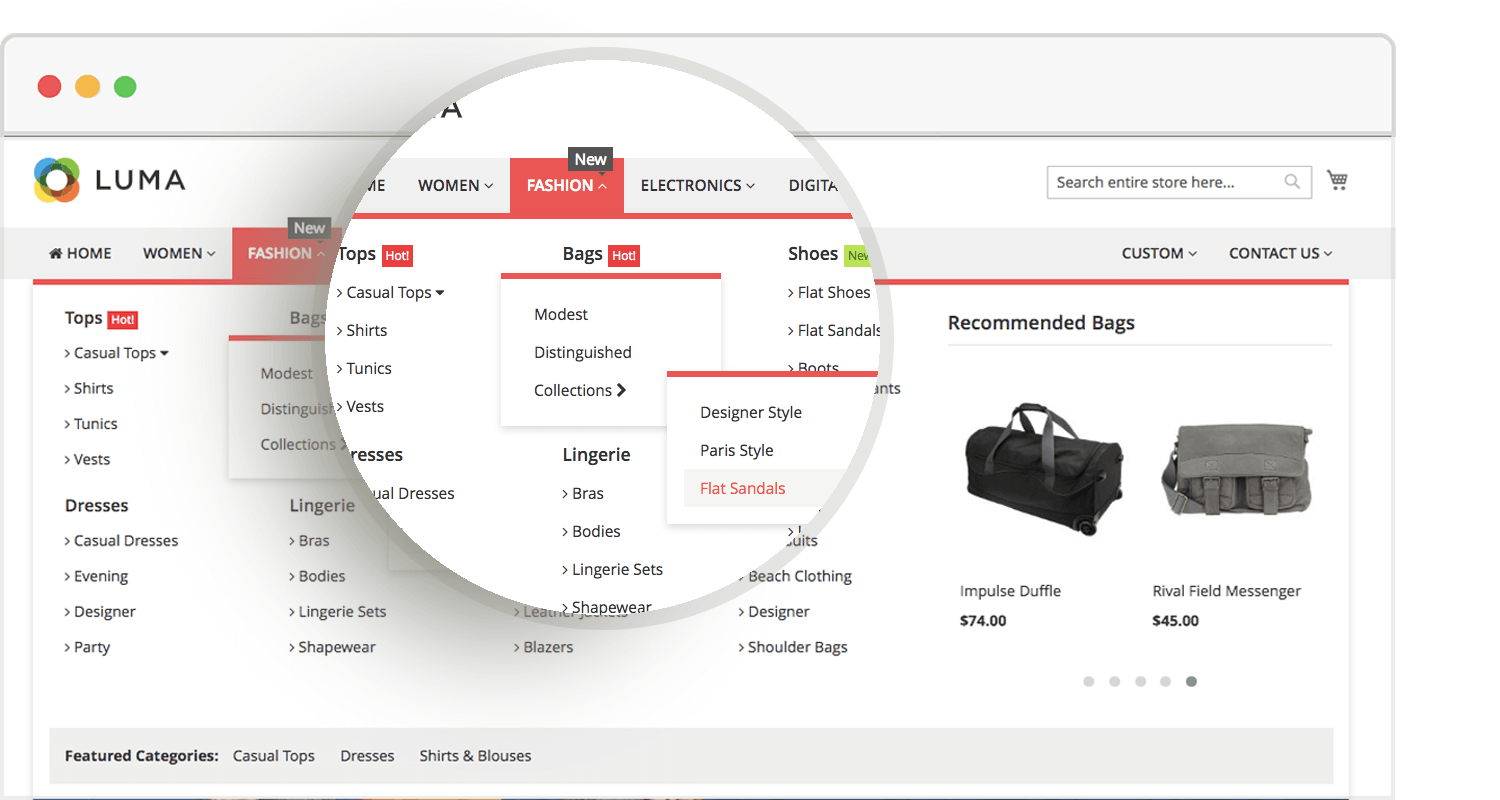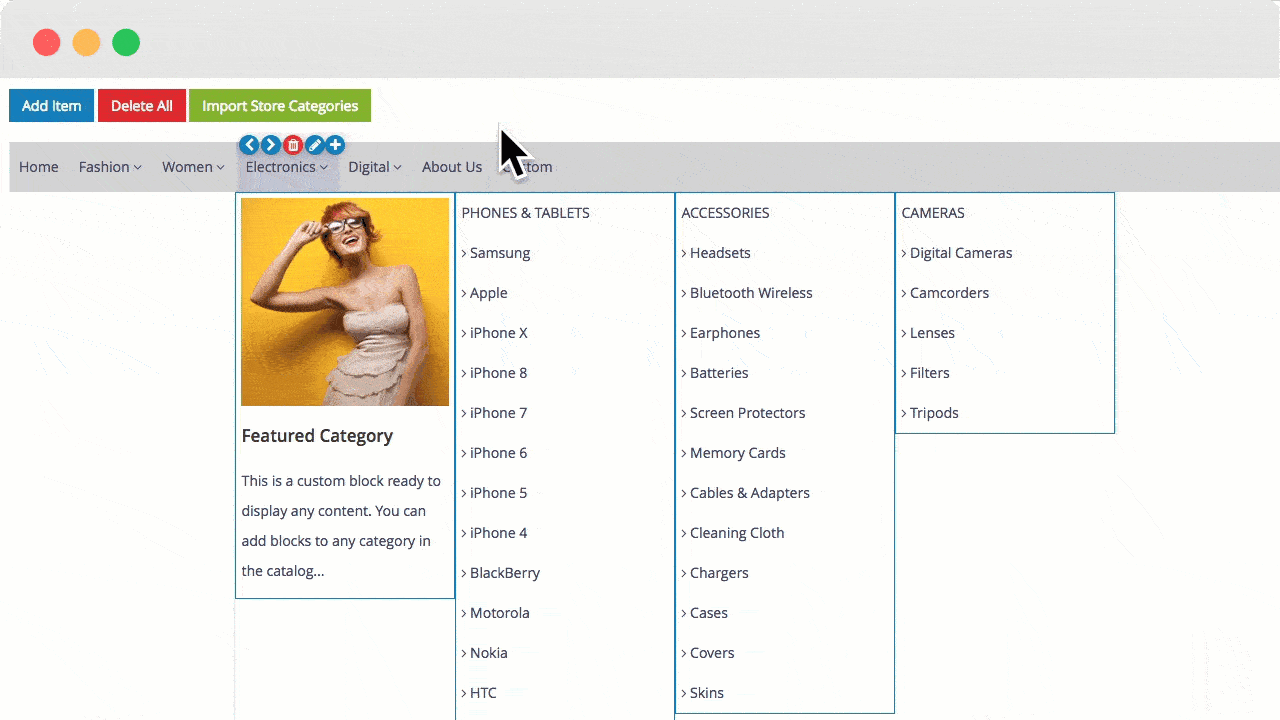 Drag & Drop Magento 2 Mega Menu
With the help of our Magento 2 mega menu, you can drag & drop items freely in the navigation menu. Therefore, it's easy to create your menu of columns and rows depending on the requirement. Also, you can re-arrange your menu order at a glance thanks to this amazing feature.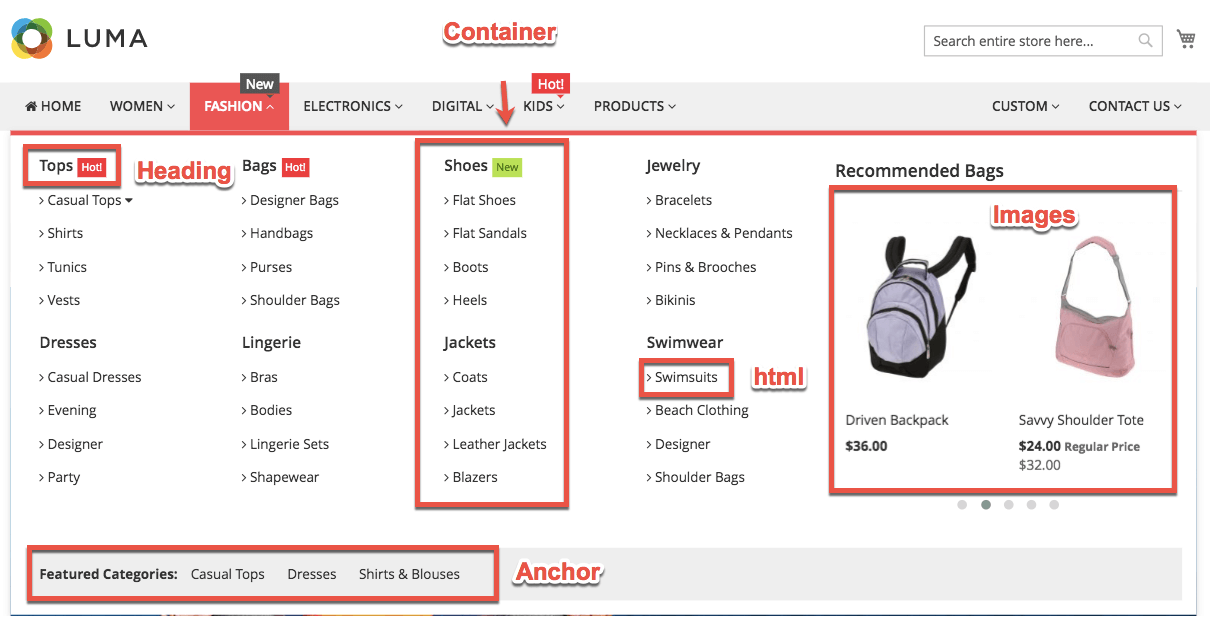 Use your own imagination and creativity to make your menu more interesting. For this purpose, you can assign an image or a picture directly from your computer or using the URL. Moreover, our 7 elements can be added to the top, bottom, and side of your menu, fitting it gracefully.
Fully Responsive UI design
As you know, responsive web design is essential in your e-commerce website. Thus, our Magento 2 mega menu is tested successfully in all modern browsers and mobiles. Now, your customers can shop whenever and wherever possible, with any device. Now, no more loading huge website design on such a tiny mobile screen! No more zoom in and out to find what you want!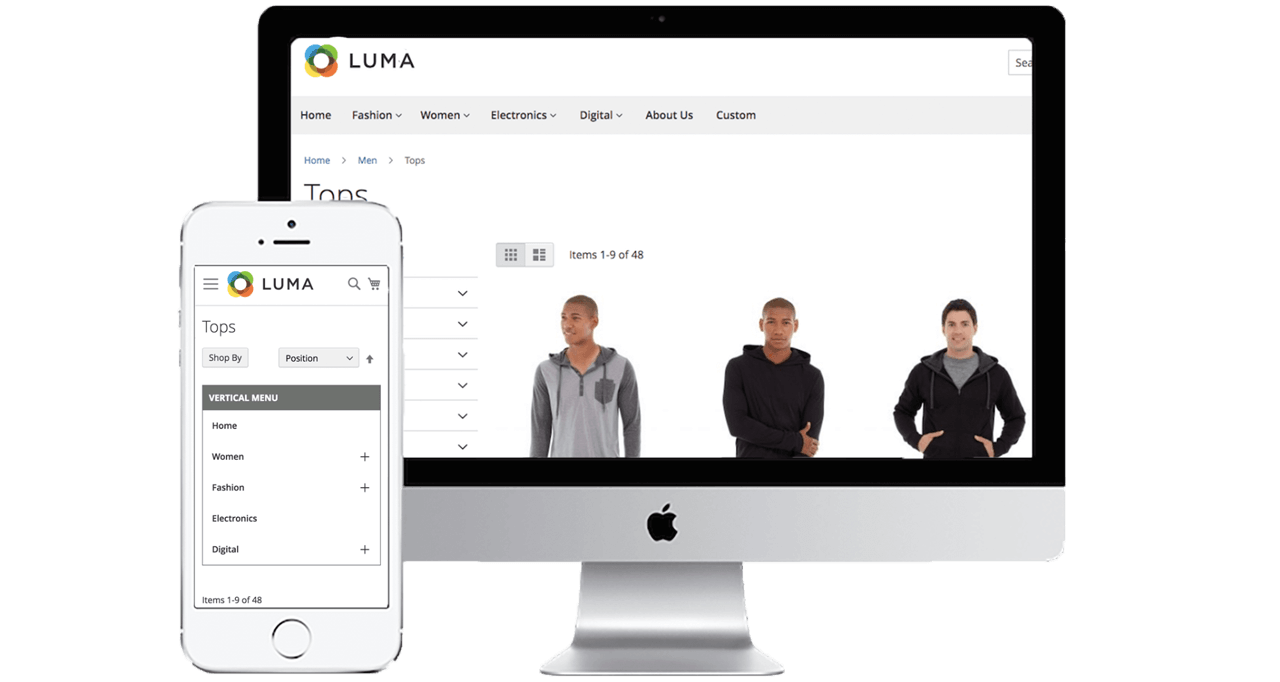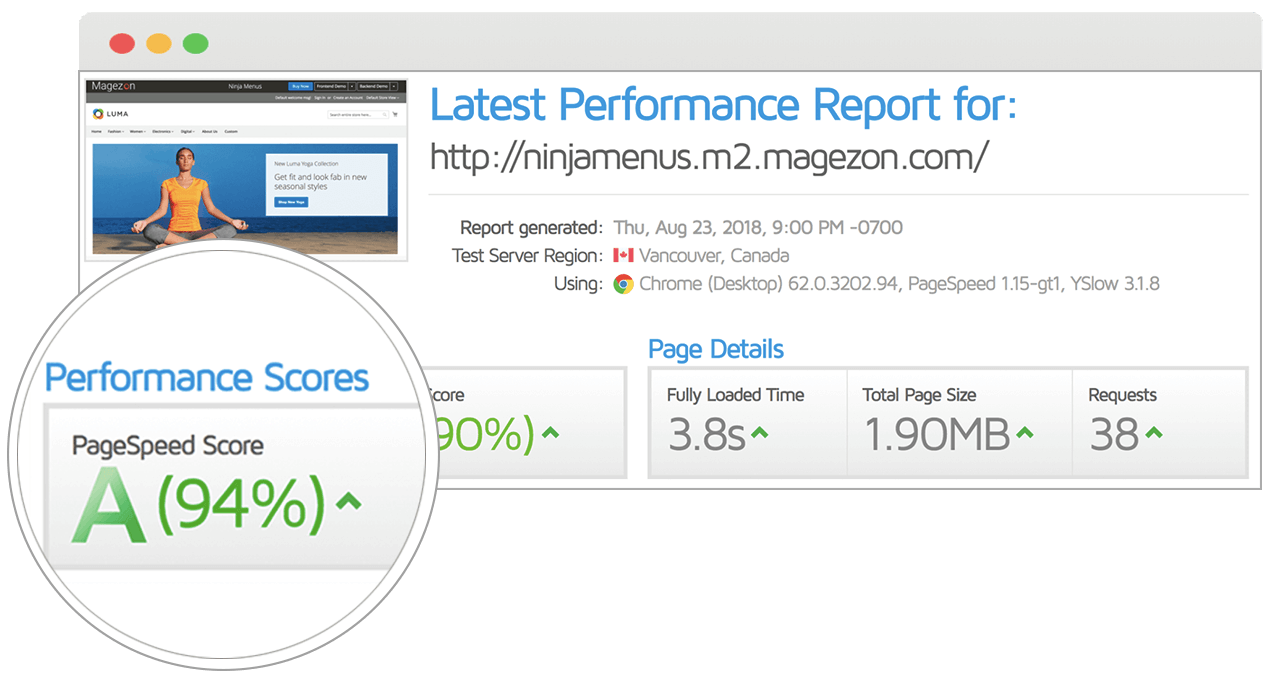 Fastest load time, Cache Supported
In fact, no one should wait for a slow loading page. In order to enhance your sale, we make your Magento store faster by supporting super cache feature. This will generate static HTML menu code and bypass the interaction with the database on every page load.  
Lazy Load technique
Magento 2 mega menu now supports Lazy load technique which helps saving loading time. It's set not to load images and iframe (Video, google map, etc) in the menu until hovering to them.
Loading only on demand - best choice to reduce server requests and page size. Save a huge amount of bandwidth.
As a result, website loading speed will increase sharply. It is absolutely good for SEO and one of the key factors to getting high Google rankings.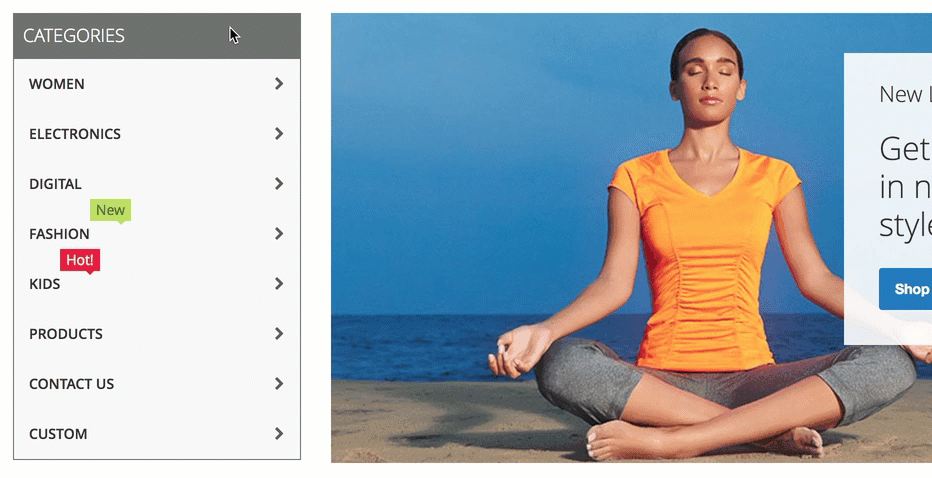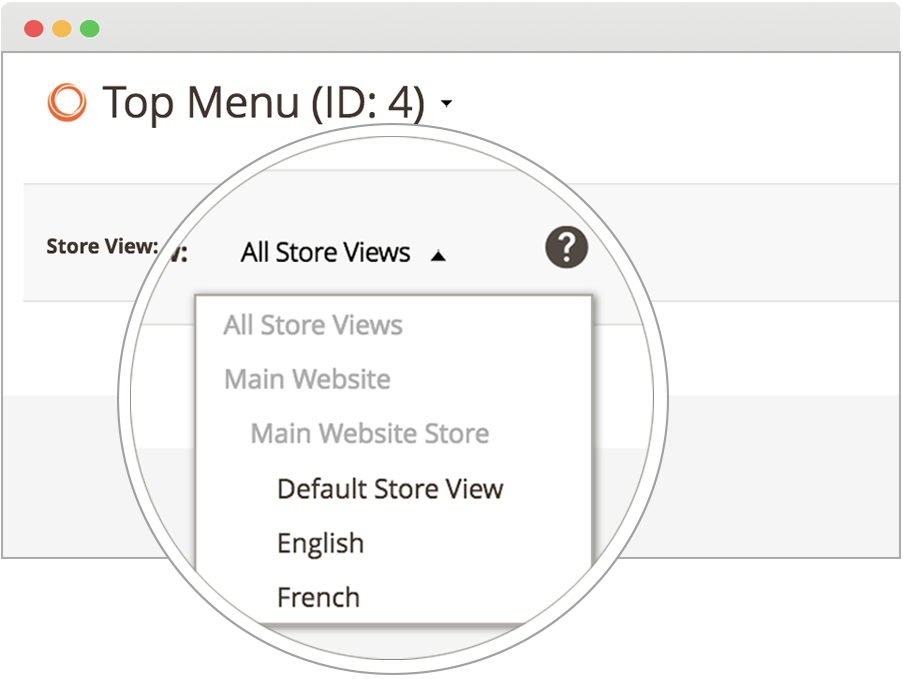 Support multiple stores and languages
The more language preferences your site get, the more convincing it will be. With Ninja Menus, you can create Store Views for different languages. As a result, your customers can switch to their referenced alternatives with ease.
Customize the menu design with ease
With Ninja Menus, you can now be a stylist. You can make your menu creatively without editing CSS file. No coding technique, no technical skill required. Customize your menu styles in background color, border style, font style, padding, etc. just by working with the Design Option tab.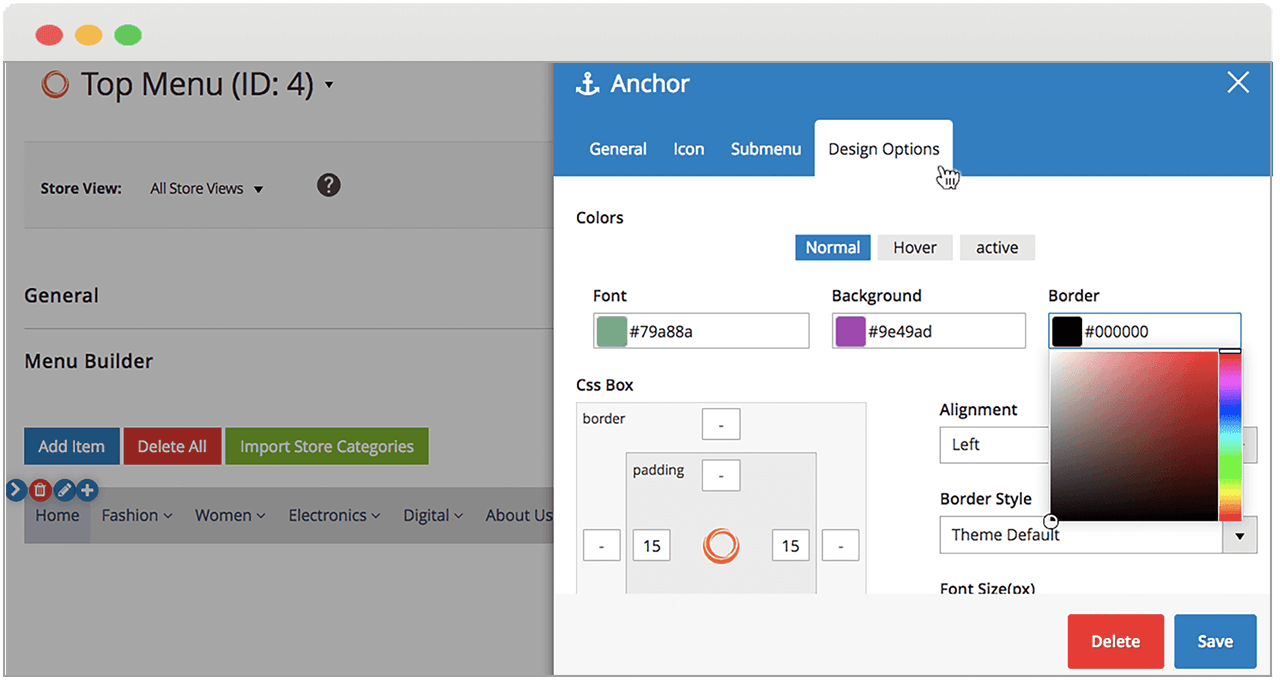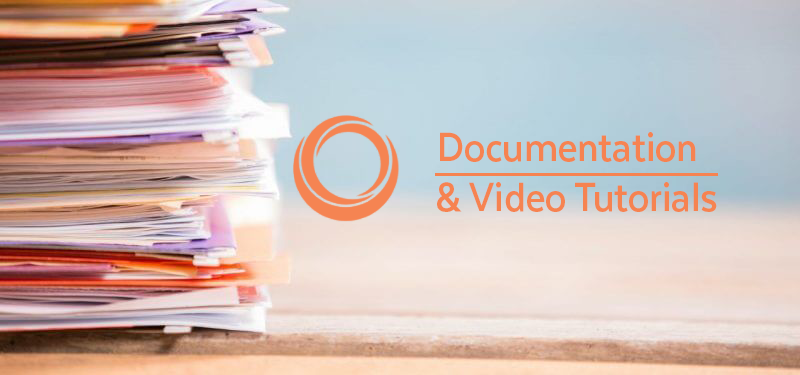 Detailed Documentation & Video Tutorials
We provide Video Tutorials with visual guidance for building your menus. Besides, you can use User Guide for every tiny detail. If you still confuse with our instruction, contact us via mail or submit us a ticket. 
Feature Full List
The Ultimate Magento 2 Menu
Fully Responsive
Mega Submenus
Drop-down, drop line, fly-out, accordion menu types
Compatible with mobile devices
Also display menu subtitle
Easy to use
No coding skills required
Drag & drop Magento 2 Menu Builder
100% responsive
Fastest load time, cache supported
Support multiple stores and languages
Works out of the box
Multiple stores views
Sticky menu makes your menu floating despite scrolling
Import store categories button helps save time
Boost sales
Show time countdown in the popup
Display Related Products, Cross-sells or Up-sells right in the popup
Product page support
Fully Configurable
Links categories, CMS pages, custom link
Support widget
Instant import store categories
Enhanced font awesome icons
Built-in LESS stylesheets
Multiple menus can be configured independently
Inline CSS for developers
Advanced Submenu Layouts
Individually configure the width of each column, or set a default for each submenu
Set background images for each submenu
Design menu in 3 conditions: Normal, hover and active
Check out border, padding by Css Box
Set alignment, Border Style, Font Size(px)
Responsive & Mobile
Freely adjust mobile breakpoint
Responsive layout
Configurable Breakpoint
Hide items for different screen sizes
Easy to Customize
Customize individual menu items' styles right from the Menu Item Settings
CSS for developers
Support horizontal, vertical, accordion navigation menu
Support 7 elements: anchor, container, html, image, heading, divider, clear columns
Create unlimited levels
Skin builder
Support multi-column
CSS Classes for developers
Insert links of many types (Custom, Categories, CMS Page Link)
Support Icon and Caret displayed when normal or hover
Support targets to open attached links
Class Attribute for developers
Put the icon where you want
Insert image to the menu by url or from device
Support stack and mega submenu
Support all sub-menu positions including Left, Right - Vertical - Full Height
Adjust the widge of the submenu freely
Insert photo, Adjust size, color, position, style of the submenu
Additional Elements
Anchor
Container
Image
HTML
Heading
Clear columns
Divider
Frequently Asked Questions
Do you have any questions about Magento 2 Ninja Menu? See the list below for our most frequently asked questions. If your questions are not listed here, please contact us.
Feature FAQs
To install this extension, please refer to Magento 2 Ninja Menu Installation Guide for detailed instructions. It will take you just a few minutes to install our extension.
Anyone who wants to improve sales by making the menu more attractive and easier-to-use. No coding or technical skill required.
What is more important to the sale than being able to manage your menu in your own style, making it special, unique and eye-catching but still user-friendly? Our Magento 2 Ninja mega menu is absolutely what you are looking for to improve your menu layout.
Of course not. Being cache supported means no need to make an HTTP request to load assets like scripts, CSS, and images anymore. Also, your websites can serve content in next to no time, improve both front-end and back-end load times, and reduce stress on the website's origin server.
With the help of Ninja Menus, adding image background for the submenu is now a piece of cake. Just by following some easy steps. Take a look at our User guide to get more details.
Just by choosing any language in "All store view" drop-down list. More details here.
In Menu Builder mode, click on Import store categories button -> You will see a pop-up with our Default categories inside. Choose the categories you would like to add on your menu and then click Import. Make sure you understand our Import Children button. To have a closer look, click here.
It means your customers are now able to visit and shop around your site more easily. No matter what kind of device they are using, your store can be displayed perfectly. No more zoom in and out to have look at your products on mobiles. As a result, they will eager to visit your site that makes your sales boosted.
We supported all the languages listed in the drop-down list of All store view.
We've already added this function in our extension. Make your menu stick to the top by switching only 1 button in the backend. (We described in the user guide).
Support FAQs
When you are buying our product, you can see the information of it in add to cart area. In the 'Additional 'Free Installation Support' before adding to cart. Just submit a ticket here and we're ready for help within 24 hours. This service is totally free, all the thing you have to do is providing us with those below information:
Order ID

SSH account & admin account
Absolutely. Magezon offers lifetime free updates, 90-day free support and free installation support.
After 90 days, you need to pay an extra fee for our support. However, we believe that 90 days is enough for you to install, run and use our extension properly on your website.
If you have any questions or need any support, feel free to contact us through these ways below. We will get back to you within 24 hours since you submit your support request.
Payment FAQs
Currently, we only support product payment via Paypal. However, we will consider other payment methods and notify you of this.
If you are unsatisfied with our product, you can ask for a refund within 30 days since you purchase. Please send your refund request by filling out Contact Us, emailing us at [email protected], submitting a ticket, or contacting us via Skype or live chat.
Yes, you just need to pay one time to get our product without monthly service or update cost or something like that.
License FAQs
According to our license policy, you are allowed to use a single extension license on only one Magento installation.
If you want to use our extension on another Magento installation, you have to purchase another license for this installation.
If you're running multiple domains or websites under the same Magento installation, you just need to use one extension license.
Release Notes
Version 1.0.2 - released on Jan 23th, 2019
Add Lazy Load - Load images when hover on menu parent item
Add CSS animate for submenu
New Update - released on Dec 13th, 2018
Compatible with Magento2.3
Version 1.0.0 - released on Jul 30th, 2018
Why Choose Magezon
®

2 Extensions ?

Come with a full service package, extensive documentation and excellent support.
30-Day Money Back
Contact us within 30 days and we'll give you a full refund.
Lifetime Free Updates
Instantly get notified by e-mail once a new version is released.
90-Day Free Support
90 days of troubleshooting support and bug fixes for free.
Free Installation Support
Helping you to use our extension is the fastest.
High Quality Code
All our extension are of top quality and come with well-commented code.
Extensive Documentation
All extensions come with a detailed PDF and online user manual.