Extension has been verified successfully by Magento Marketplace
Magezon guarantee all products have to meet the requirement of developing extensions according to Extension Quality Program on Magento Marketplace. The program is powered by Magento expertise, development guidelines, and verification tools.
Passing the verification confirms the best coding structure, performance, scalability, and compatibility with Magento 2 core of the extension.
The EQP program consists of 3 review processes including Business Review, Technical Review and Marketing Review. The Technical Review is the toughest one with careful checklist:
Check Code Quality/Syntax
Check for Viruses and Malware
Check for Plagiarism
Verify that Product Installs Correctly
Verify that Varnish Works Correctly
Quality Assurance: Pass Manual QA
EQP explanation can be found in this official blog post from Magento. View Quick Order on Magento Market Place
Magento 2 Quick Order is an EASY-TO-USE and extremely TIME-SAVING extension. No more accessing multiple pages for each product search. Magento 2 Quick Order extension helps your customers place an order in bulk much faster. Cut down time searching and boost your sales dramatically.
Community Edition: 2.0.x, 2.1.x, 2.2.x, 2.3.x, 2.4.x
Enterprise Edition: 2.0.x, 2.1.x, 2.2.x, 2.3.x, 2.4.x
Live Demo
30 days money back
FREE lifetime updates
90 days free support
Instant Search and autocomplete technique ensure speed and efficiency
While searching by name, our Magento 2 Quick Order will automatically suggest items in great details (Product names, images, and prices. If you are not sure about the product name you get, just type some characters into the instant search box, and click on the most accurate one.
Also, entering an exact SKU number is great support lets you add that product even much faster. At a glance!
Display a popup including attributes and custom options of configurable products for customers to select. No need to navigate to any other pages. Shopping in bulk now is such a pleasure!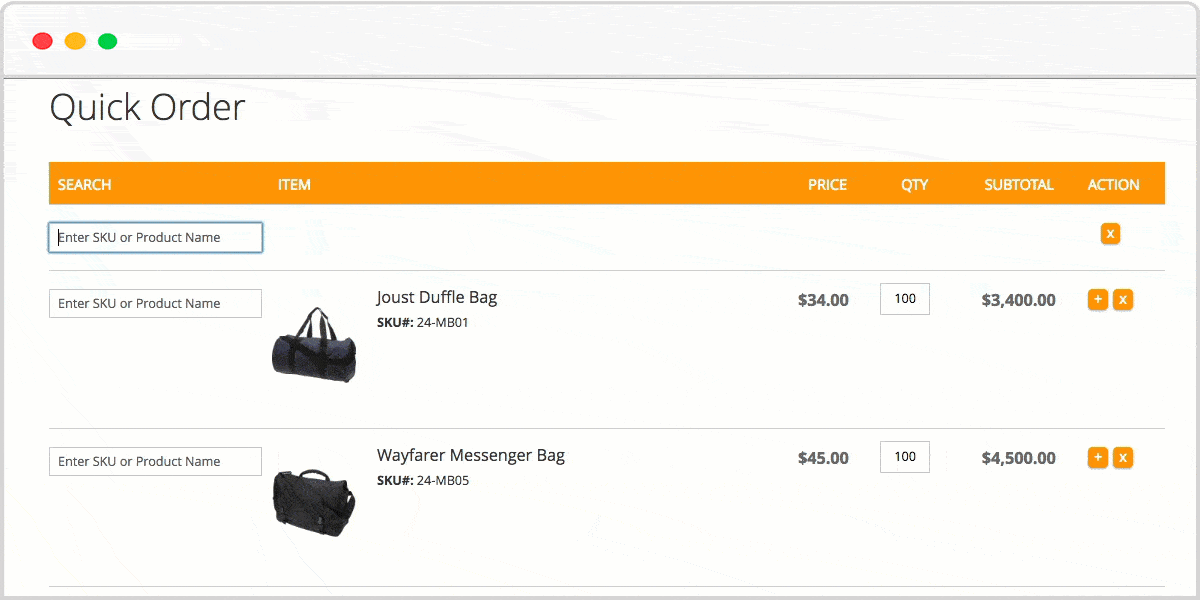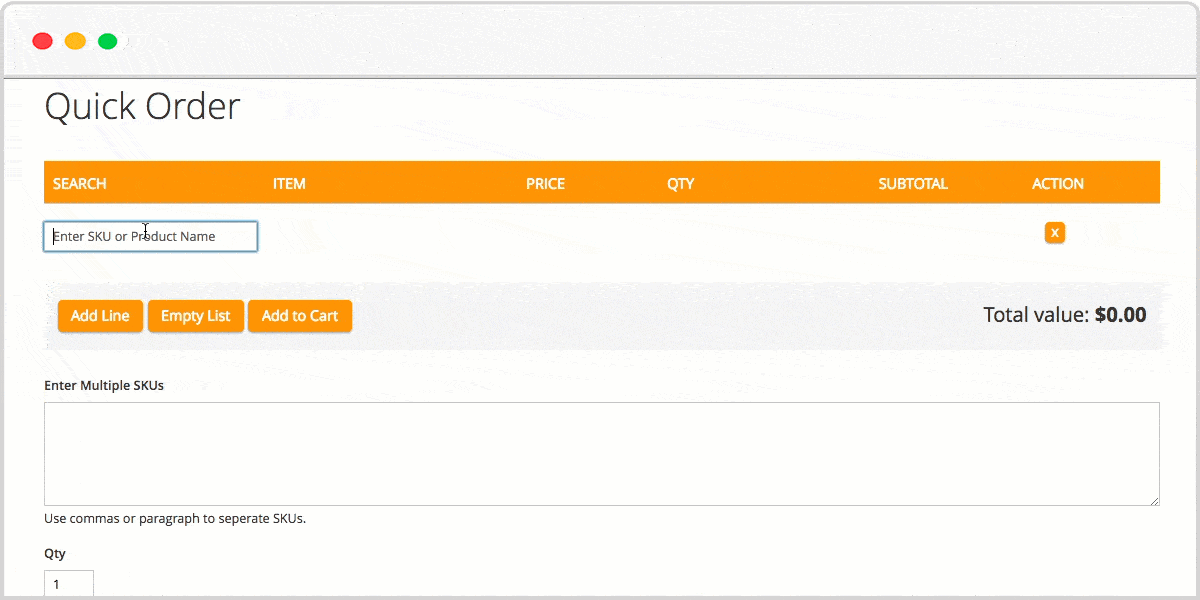 Order products in minutes without navigating to other pages
No more suffering from long-time navigating to product pages, your customers now can add all the desired items right on our impactful interface. Furthermore, product attributes can be easily selected right on the pop-up shown after clicking on Edit button. This helps prevent cart abandonment considerably.
Enter Multiple SKUs and manage quantity at the same time
Magento 2 Quick Order helps cut down time searching and selecting. A large number of products can be looked up by entering multiple SKUs. Enter the quantity applied for all these SKUs. Plus, all the products chosen are displayed neatly in a temporary list for further correction.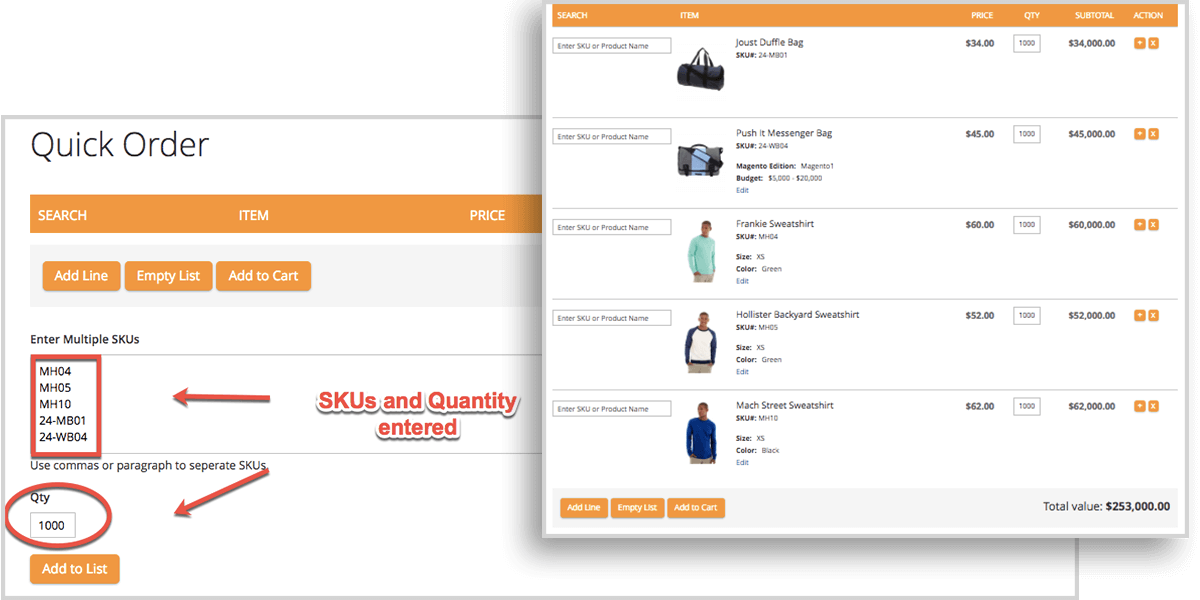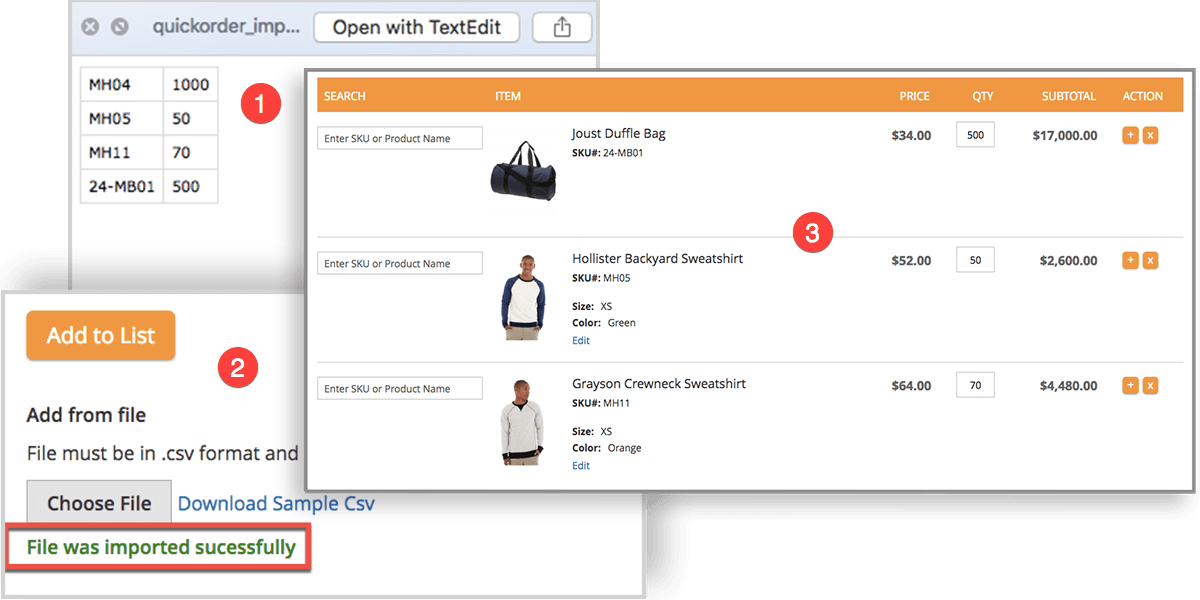 Use the quick CSV import function for all type of products
Our Magento 2 Quick Order extension supports CSV files to help bulk shoppers add products in a large quantity and add all to the real cart easily. As the CSV sample file comes with simple design, it is easy to modify and set the quantity for each products - which is the only difference from using multiple SKUs. By the way, this function cuts down the most time spent on placing bulk orders.
Compatible with all Magento product types
The Magento 2 Quick Order extension works well with simple product, configurable product, bundled product, grouped product, downloadable product, virtual product and simple product with custom options.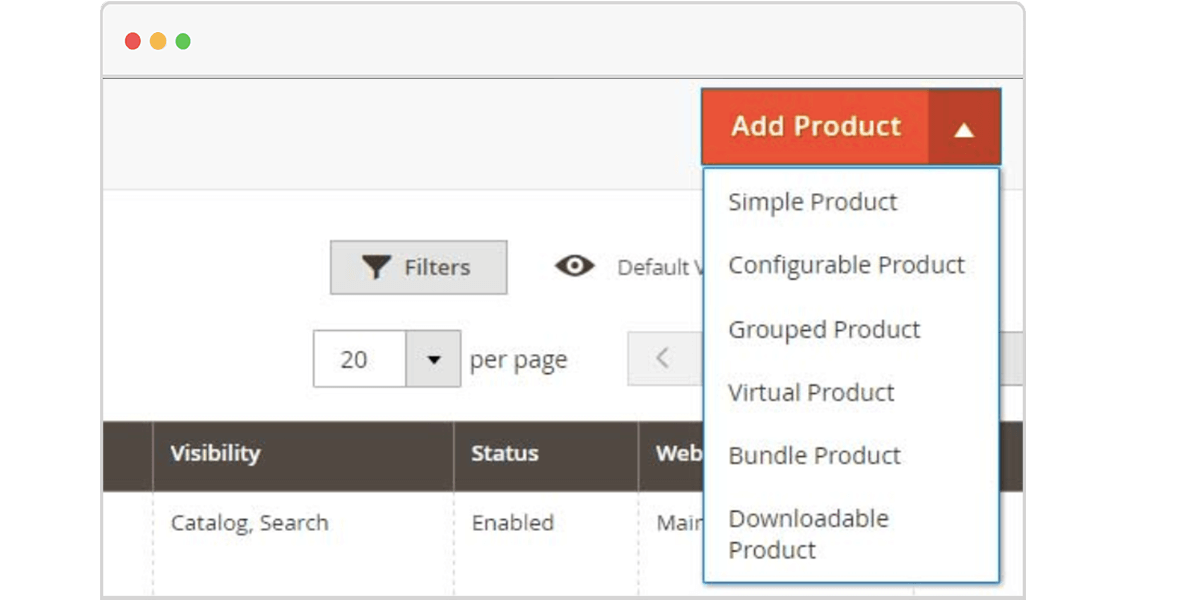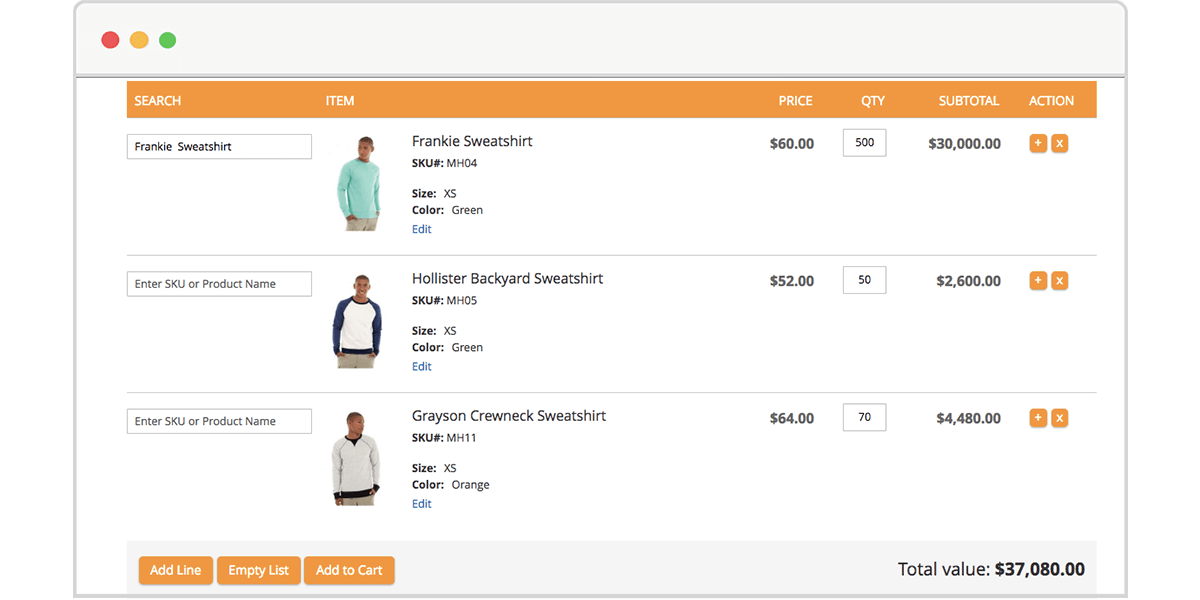 The temporary product list of Quick Order displays all the products selected. Full-function supported including an instant search box in each line and the detailed info of the product. All you wanna show off about the products are already here.
As you know, responsive web design is essential in your e-commerce website. Thus, our Magento 2 Quick Order is tested successfully in all modern browsers and mobiles. Now, your customers can shop whenever and wherever possible, with any device. Placing huge bulk order right on your mobile screen in several simple clicks! Such a sweet dream but true!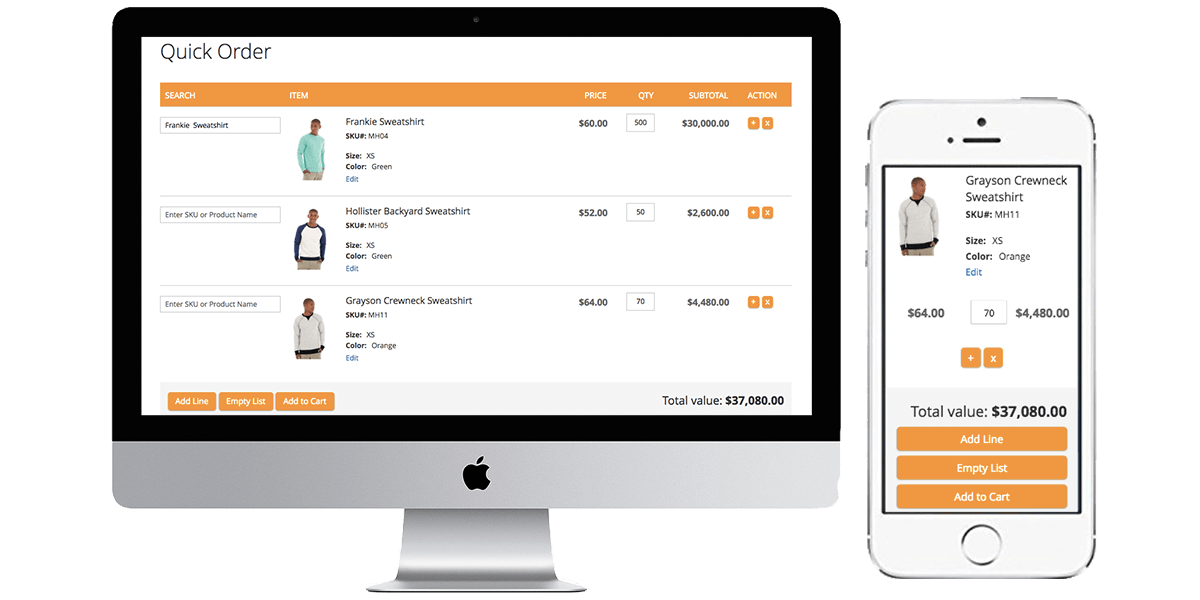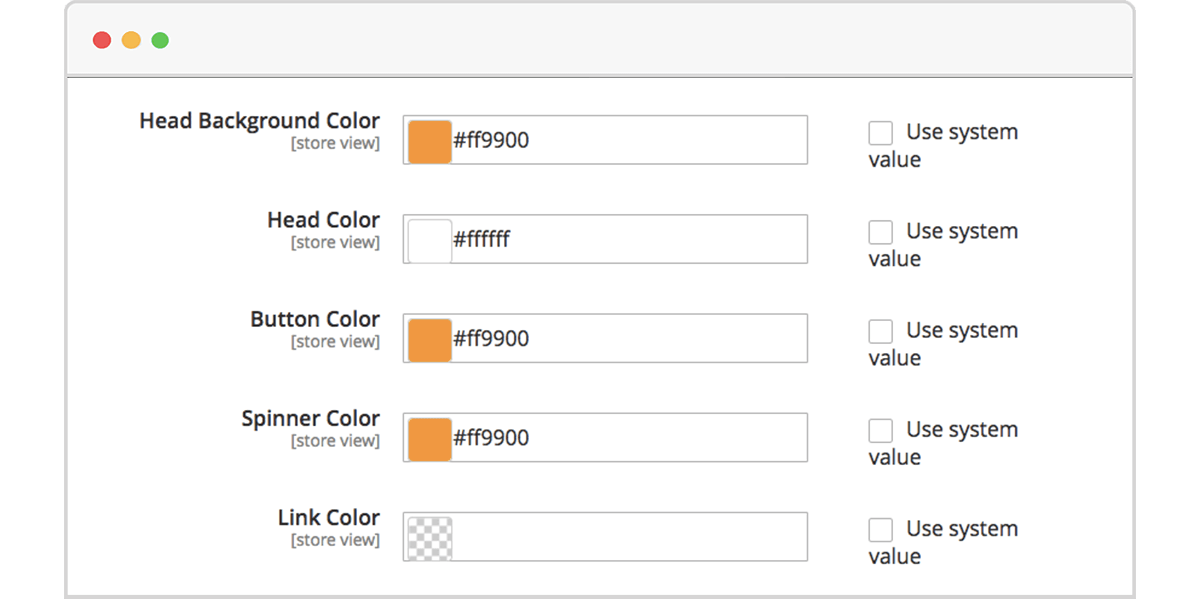 Highly Customizable Design
Our Magento 2 Quick Order interface can be customized easily on the backend. You can now be a stylist making this creatively without editing CSS file. No coding technique, no technical skill required. Just by switching on-off buttons and choosing the colors that fit your style. Customize the head background color, button, spinner or even the link color freely at a wink of eye.
Display Quick order for specific customer groups
Magezon Quick Order extension has high customizability to show with certain customer groups and works well with every product type.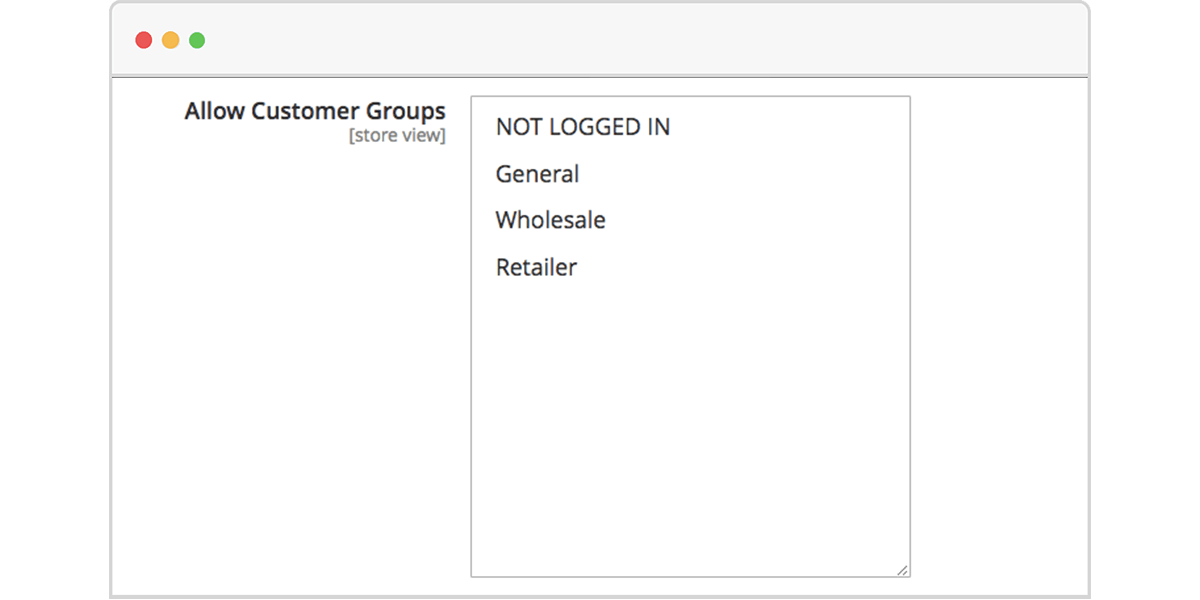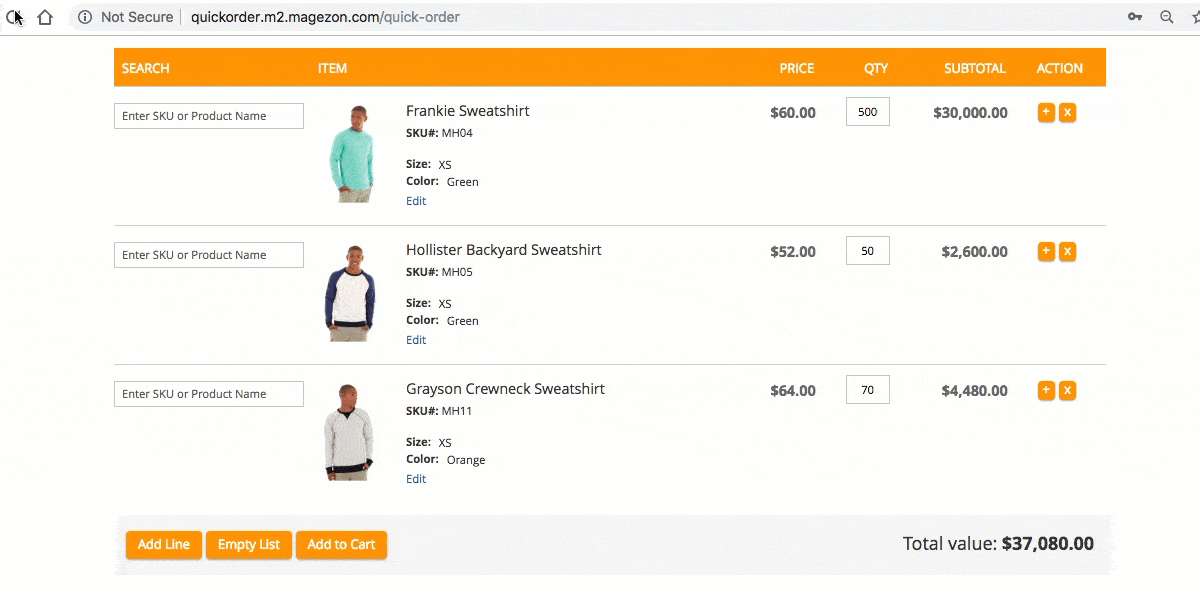 Save user previous actions as history
While adding products, sometimes it goes out immediately without reason. Maybe you just make a mistake of hitting the wrong button or the internet connection is bad, or even the electricity suddenly goes out. Don't worry! Your bulk orders added are still here. Your last action will be saved automatically and the list will only be deleted if you add all of them to the cart.
Detailed Documentation & Video Tutorials
We provide Video Tutorials with visual guidance for using the extension. Besides, you can use User Guide for every tiny detail. If you still confuse with our instruction, contact us via email or submit us a ticket.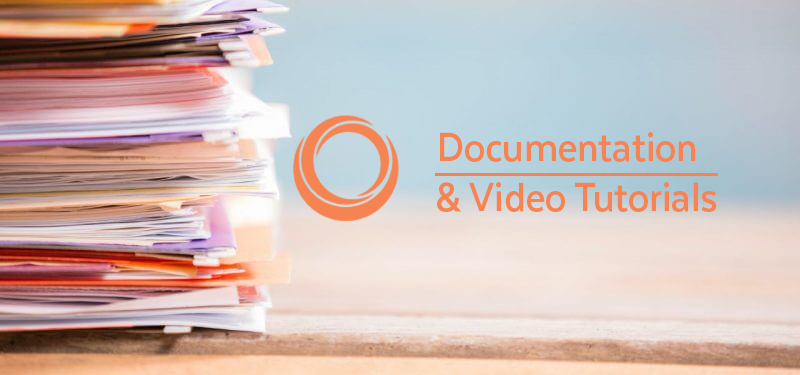 Feature Full List
For admin
Enable the extension

Add Quick Order link to the top links of the storefront

Set route name and page title

Enable Add Multiple SKUs area

Enable Upload File area

Customize the extension's style freely

Change the Head Background Color

Change the Head Color

Change the Button Color

Change the Spinner Color

Change the Links Color

Display Quick Order page to specific customer groups

Set the minimum number of characters to start showing up suggestions

Decide the information shown up to customers

Allow displaying product images

Allow displaying product SKUs 

Allow displaying Price
Responsive & Mobile
Responsive layout

Simple interface displayed but still give full information

Click & bulk buy using mobile

Quick loading on mobile screen
For customers
Easily Access the Quick Order page by clicking on the link

Search products by name or SKU by instant search box

Get product detail while searching: Title, SKU, image, price, rating...

Review all products info on one page

Select product attributes on the pop-up without navigating to product page

Adjust product quantity quickly by entering exact number on the box

Duplicate product by hitting the plus button of that line

Delete the recent item by hitting the cross button

Enter multiple SKUs to add multiple products

Upload CSV files to add multiple products quick custom quantities

Add products to list or clear products from list

Edit quantity of certain product right on the list

Empty the whole list of the product by just one click

Subtotal of each product is automatically calculated

Total value of the whole bulk order is also displayed

Add all products on the list to cart and go to check out page easily
Release Notes
Version 1.0.4 (released on May 8th, 2023)
Compatible with Magento 2.4.6
New Update (released on Aug 20th, 2020)
Compatible with Magento 2.4.0
New Update (released on Jan 31st, 2020)
Compatible with Magento 2.3.4
Version 1.0.0 (released on Jan 22nd, 2019)
Frequently Asked Questions
Do you have any questions about Magento 2 Quick Order? See the list below for our most frequently asked questions. If your questions are not listed here, please contact us.
Feature FAQs
To install this extension, please refer to Magento 2 Quick Order Installation Guide for detailed instructions. It will take you just a few minutes to install our extension.
Anyone who wanna enhance customers' experience while shopping. Boost the wholesale orders of your site dramatically.
There are 2 ways you can follow once you know what you wanna get exactly:
Enter Multiple SKUs
A large number of products can be looked up by entering in multiple SKUs field. However, the quantities entered in the box are applied for all the SKUs added. To modify respectively, enter the exact number on the quantity box of each product line.
Use the quick CSV file
Get a list of your own with custom quantities for products in a CSV file is the best choice for adding bulk order. As the CSV sample file comes with a simple design, it is easy to modify and set the quantity for each product.
There will be a red error line noticing you about choosing the options before adding to list. Like this:


From the backend interface, choose the Customer Groups in the Allow Customer Groups field then hit Save.
Just enter the exact number into the quantity box. If you add products by uploading CSV file, note the quantity of each product in the second column.
Sure! You can do it from the backend just by some switch buttons. We support full-color swatch that helps you design the extension to fit your site. All the factors like Head, head background, button, link, spinner color can be changed easily.
Of course! Enter the number you want into that field from the backend.
Support FAQs
To get support for installation, you need to pay $50 per product. You can pay for installation fee while adding a product to cart from its detail page by ticking Installation Support + $50.00 in the Additional Services block. Or purchase installation support separately from this page.
After finishing your purchase, please submit a ticket and we're ready for help within 24 hours. Don't forget to include the following information in your ticket:
Order ID

SSH account & admin account
Absolutely. Magezon offers you free lifetime updates and 90-day free support.
After 90 days, you need to pay an extra fee for our support. However, we believe that 90 days is enough for you to install, run and use our extension properly on your website.
If you have any questions or need any support, feel free to contact us via the following ways. We will get back to you within 24 hours after you submit your support request.
Payment FAQs
Currently, we only support payment via Paypal if you purchase products on our website. However, we will consider other payment methods and notify you of this.
Yes, you can ask for a refund within 30 days since your purchase. However, please check our refund policy first to make sure that you are eligible for the refund. Then send your request by submitting contact form or emailing us at [email protected].
Yes, you just need to pay one time to get our product without monthly service or update cost or something like that.
License FAQs
According to our license policy, you are allowed to use a single extension license on only one Magento installation.
If you want to use our extension on another Magento installation, you have to purchase another license for this installation.
If you're running multiple domains or websites under the same Magento installation, you just need to use one extension license.
Why Choose Magezon
®

2 Extensions ?

Come with a full service package, extensive documentation and excellent support.
30-Day Money Back
Contact us within 30 days and we'll give you a full refund. Checkout our refund policy here
Lifetime Free Updates
Instantly get notified by e-mail once a new version is released.
90-Day Free Support
90 days of troubleshooting support and bug fixes for free.
Helping you to use our extension is the fastest.
High Quality Code
All our extension are of top quality and come with well-commented code.
Extensive Documentation
All extensions come with a detailed PDF and online user manual.