Report Plugin | Blue Form Builder
See form views, submissions and conversion rates
Extension has been verified successfully by Magento Marketplace
Magezon guarantee all products have to meet the requirement of developing extensions according to Extension Quality Program on Magento Marketplace. The program is powered by Magento expertise, development guidelines, and verification tools.
Passing the verification confirms the best coding structure, performance, scalability, and compatibility with Magento 2 core of the extension.
The EQP program consists of 3 review processes including Business Review, Technical Review and Marketing Review. The Technical Review is the toughest one with careful checklist:
Check Code Quality/Syntax
Check for Viruses and Malware
Check for Plagiarism
Verify that Product Installs Correctly
Verify that Varnish Works Correctly
Quality Assurance: Pass Manual QA
EQP explanation can be found in this official blog post from Magento. View Report plugin on Magento Market Place
Report plugin provides you with statistics on form views, submission and conversion rates. Hence, you can measure the effectiveness of your forms and make appropriate adjustments.
Report is a plugin of Magento 2 Blue Form Builder. After installation, it will be integrated with existing Blue Form Builder extension on your website.
Community Edition: 2.1.x - 2.2.x
Enterprise Edition: 2.1.x - 2.2.x
Live Demo
30 days money back
FREE lifetime updates
90 days free support
See form views, submissions and conversion rates
Report plugin allows you to keep track of statistics on form views and submissions in the format of area charts. Also, you can know the conversion rates of your forms.
These report data are automatically updated after submission. Therefore, no need to update them manually each time there is a new submission.
You can view report data for all forms or for individual forms. It's all of your choice.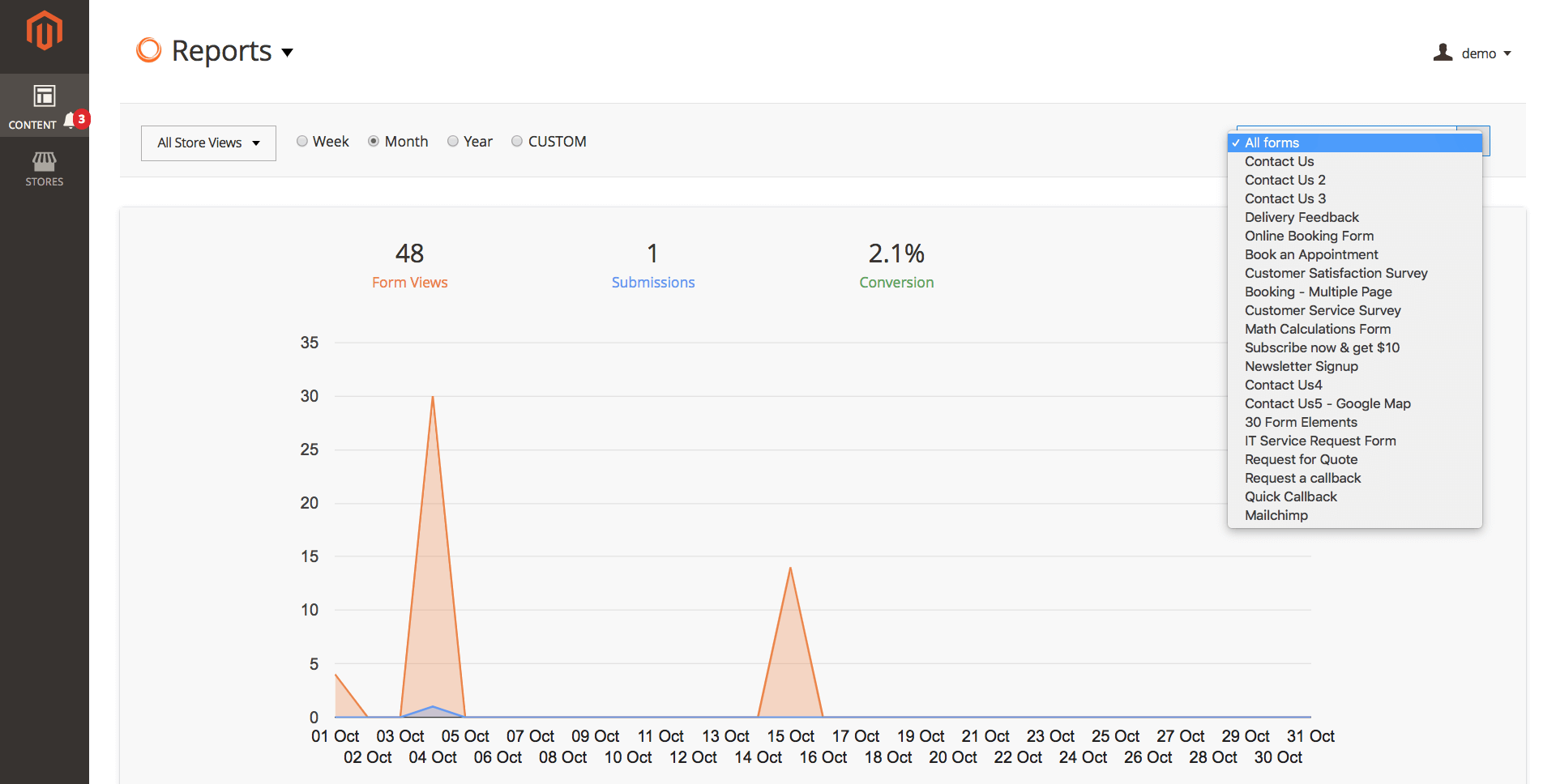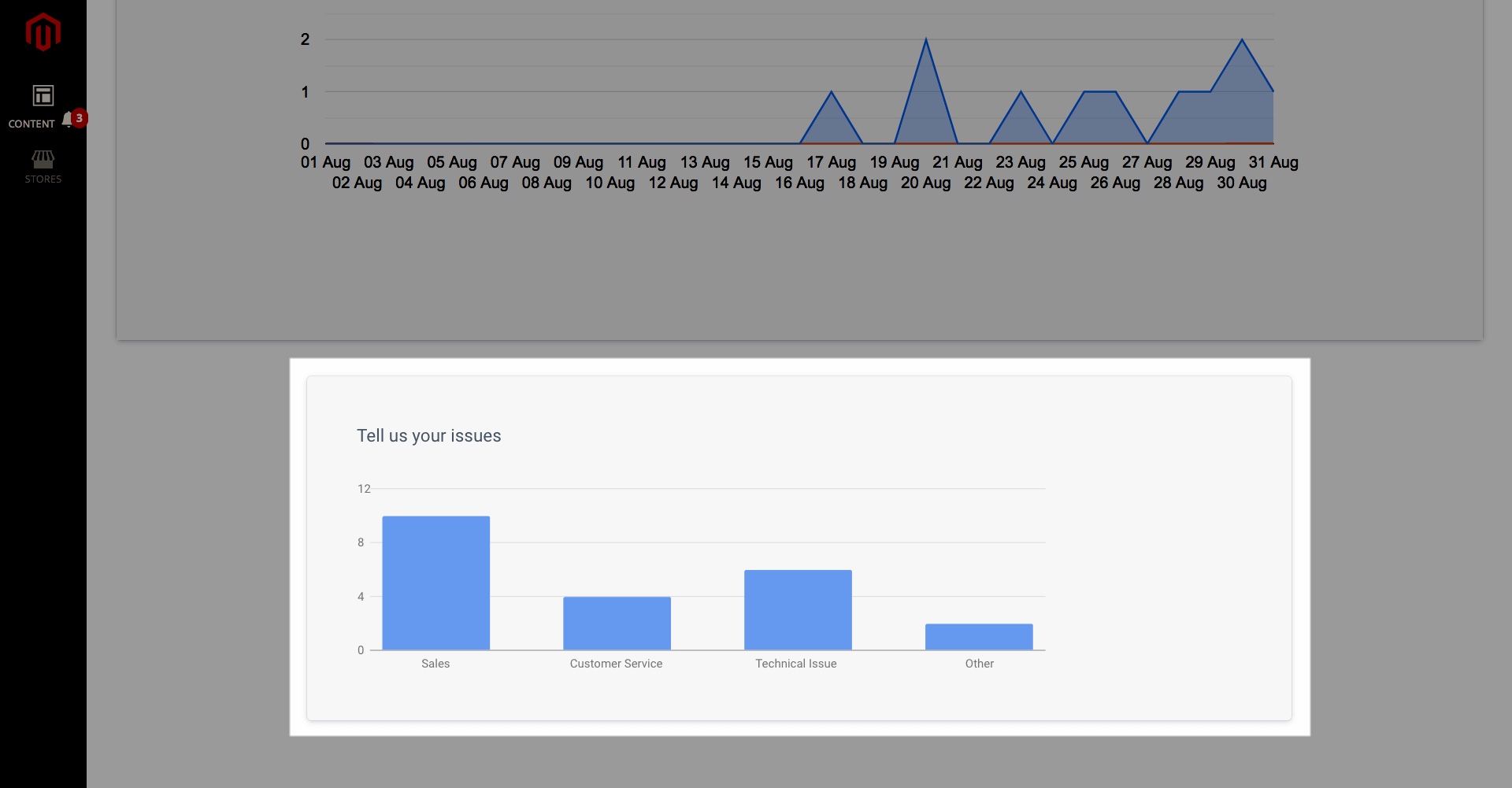 Report for form fields
Report plugin also provides data about answers of a certain form field in the format of bar charts. Specifically, reports will be generated for single choice fields, multiple choice fields and drop-down lists.
For example, in a ticket form, there is 'Tell us your issues' field. Customers will choose from a drop-down list which issue they are facing. These issues include Sales, Customer Service, Technical Issue and Other. There are 22 submissions for this form, 10 of which select Sales, 4 select Customer Service, 6 select Technical Support and 2 choose Other. The report for this form field will look like this:
Display report data for flexible time period
With Report plugin, you can choose to view data by current week, month or year.
If you want to see reports of a custom time period, it's no problem.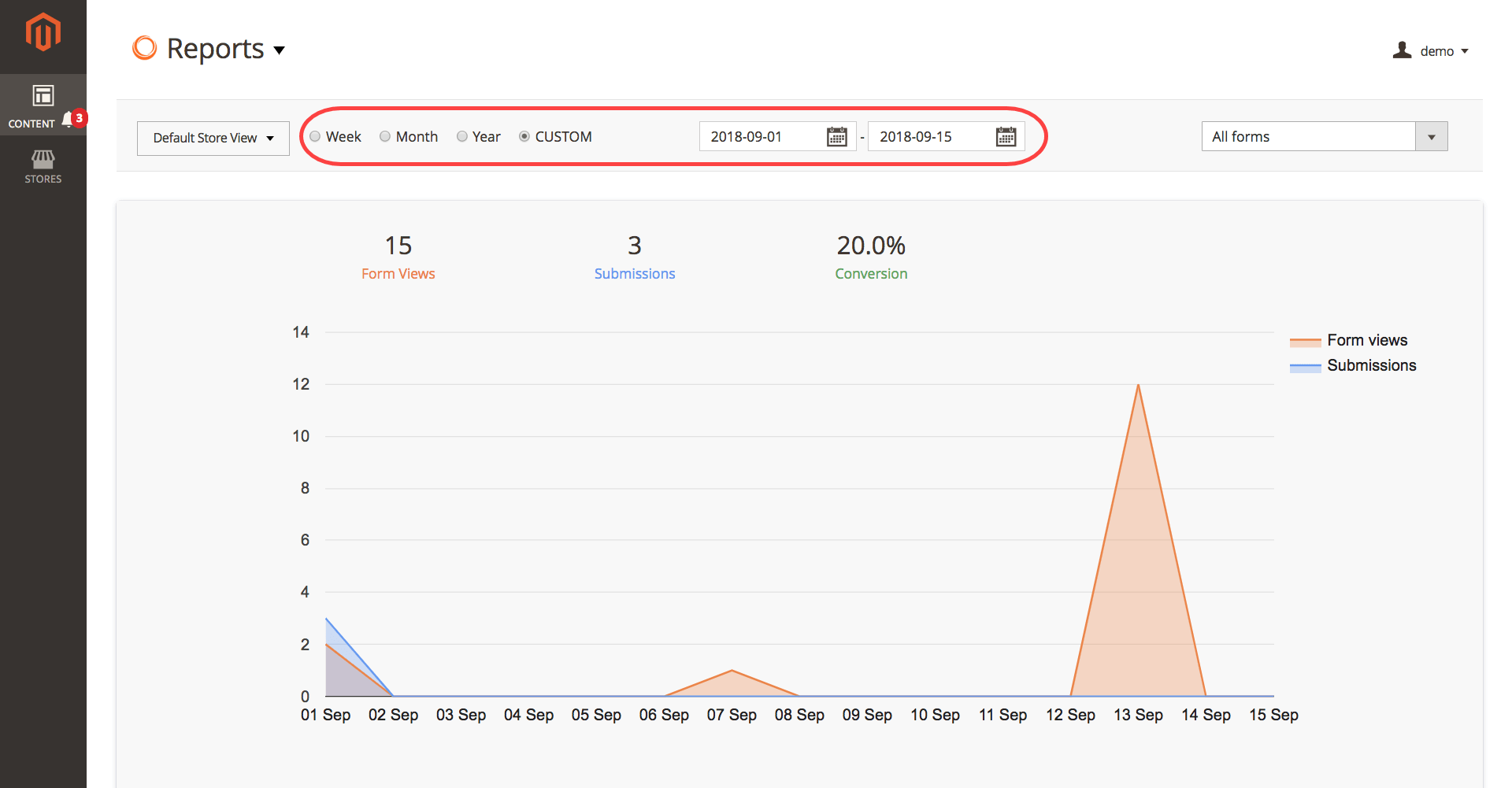 FEATURES FULL LIST
See form views, submissions and conversion rates
Report for form fields

Display report data for flexible time period

See report for different store views
No core code changes
100% open source
Easy to install and configure
User-friendly interface
30-day money back
Free lifetime updates
Frequently Asked Questions
Do you have any questions about Report plugin? See the list below for our most frequently asked questions. If your questions are not listed here, please contact us.
To install the plugin, please refer to this document for detailed instructions. It will take you just a few minutes to install our plugin.
After installing the plugin, you can access it from 3 different locations:
- Click Content on the sidebar of the admin panel. Under Blue Form Builder, you will see Reports tab. Click the tab to open the report page: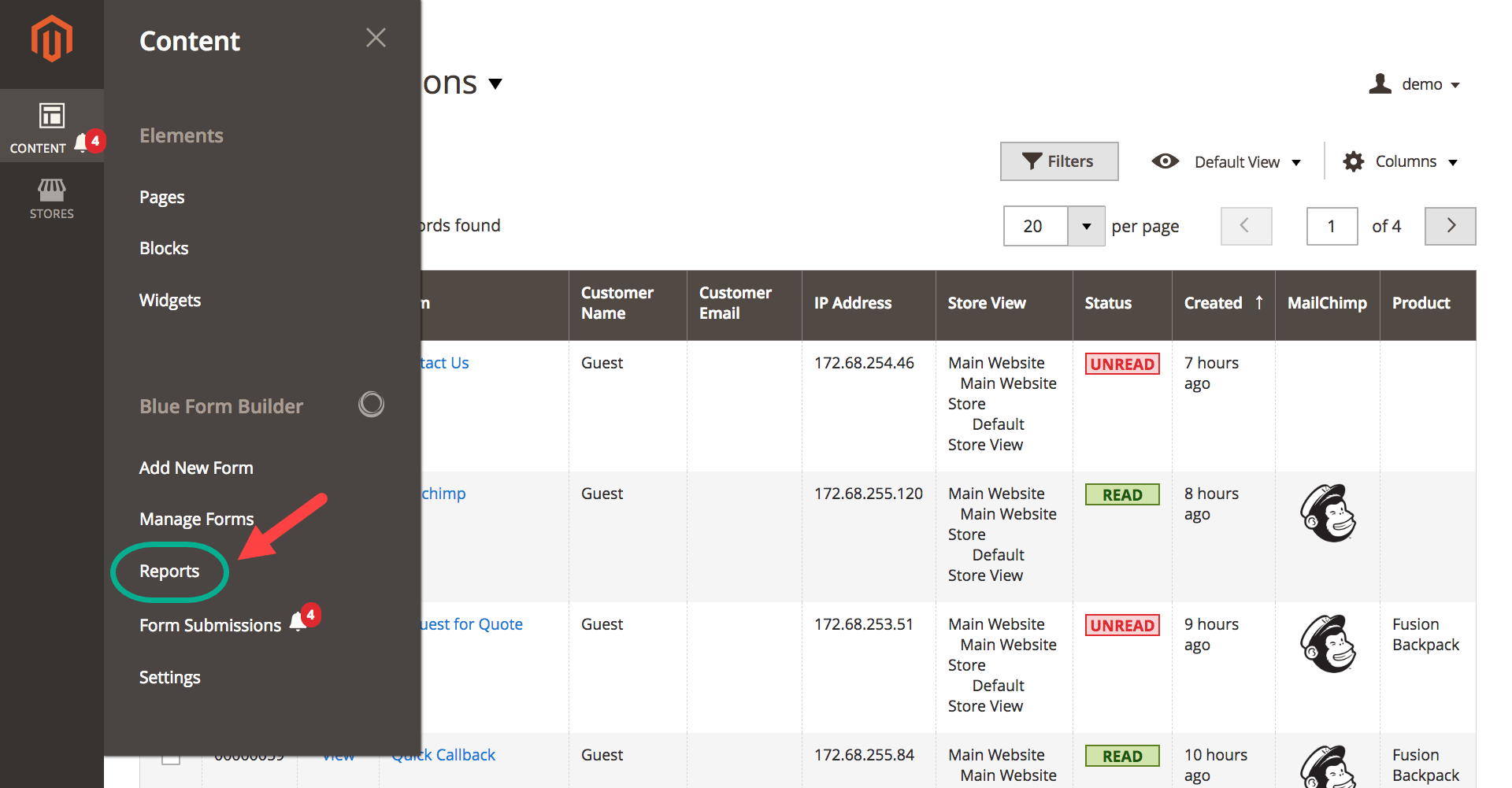 - Navigate to Content > Blue Form Builder > Manage Forms. Next to "Add New Form" button is the Reports tab: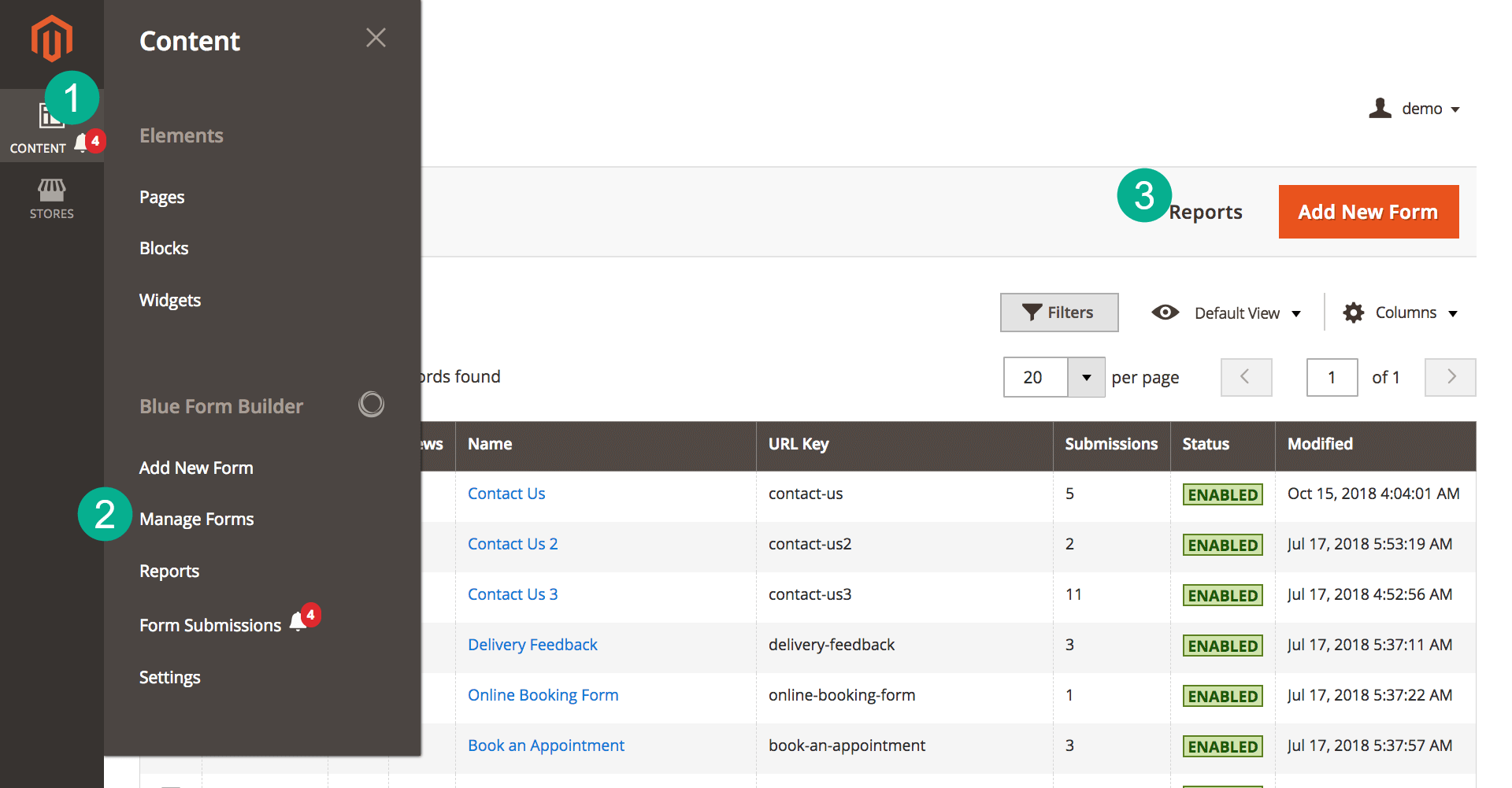 - Click Content > Blue Form Builder > Manage Forms. Then open any form. On the left of Save button, you will see the Reports tab.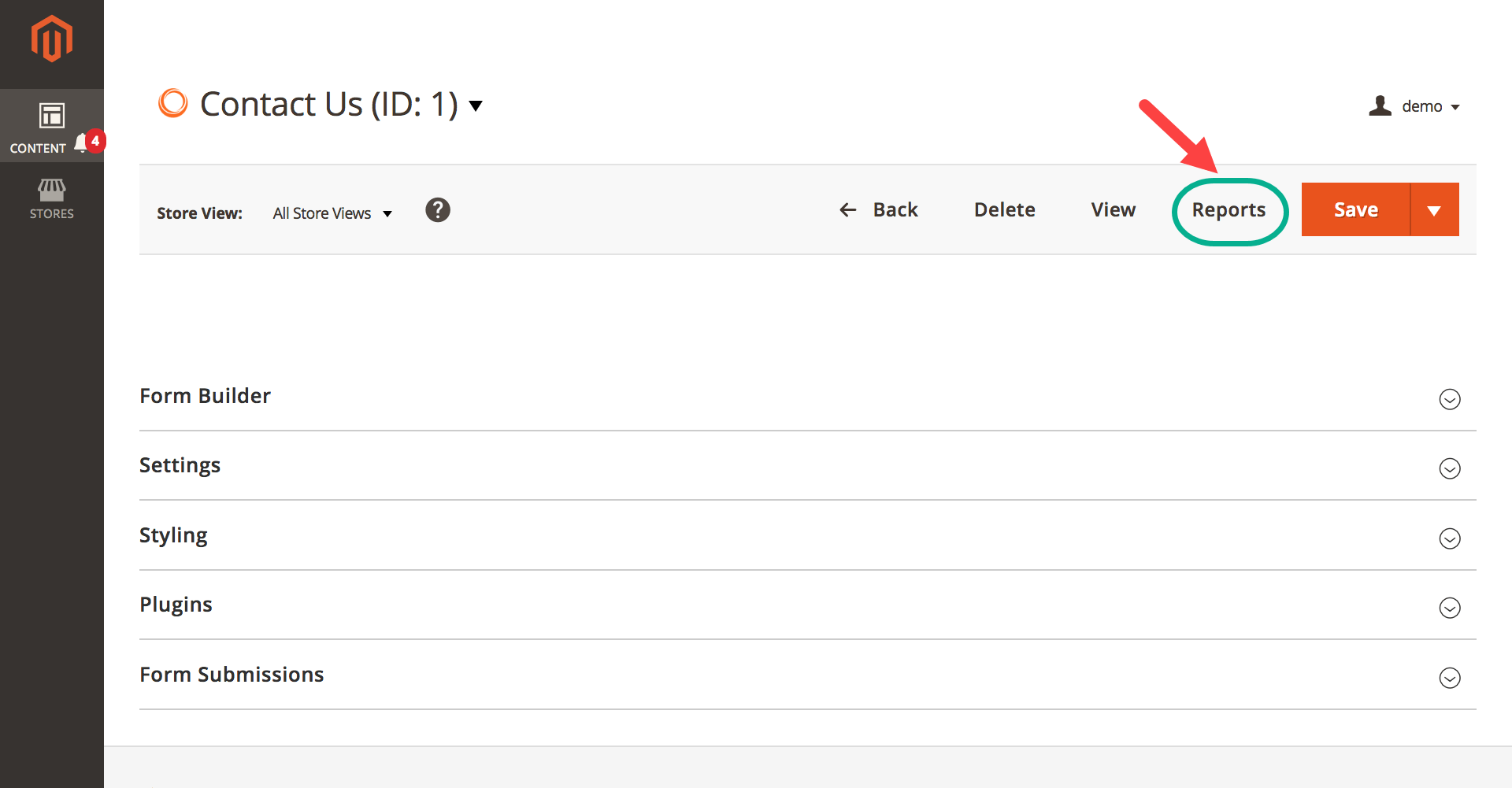 Unfortunately we do not have this feature, but we will put it under consideration. You can tell us more about this feature via contact form. 
Sorry because at the moment, we only support area chart for form data and bar chart for form field data. However, we will consider other kinds of formats and notify you of this. 
Because Report is a plugin of Blue Form Builder extension, the Magento edition for its installation will be decided by the edition you choose for Blue Form Builder.
If you have any questions or need any support, feel free to contact us via following ways. We will get back to you within 24 hours since you submit your support request.
Release Notes
Version 1.0.0 (released on May 5th, 2018)
Why Choose Magezon
®

2 Extensions ?

Come with a full service package, extensive documentation and excellent support.
30-Day Money Back
Contact us within 30 days and we'll give you a full refund.
Lifetime Free Updates
Instantly get notified by e-mail once a new version is released.
90-Day Free Support
90 days of troubleshooting support and bug fixes for free.
Free Installation Support
Helping you to use our extension is the fastest.
High Quality Code
All our extension are of top quality and come with well-commented code.
Extensive Documentation
All extensions come with a detailed PDF and online user manual.